If you think you need to pony up big bucks for a new car in order to get all of the latest safety features, think again. We've identified five great used family vehicles that deliver safety in spades — and for as little as $10,000.
Safety is a prime consideration for most car shoppers, and it's not surprising when you consider the statistics. According to the Insurance Institute for Highway Safety, there were 34,439 fatal motor vehicle crashes in the United States in 2016 alone. Scary stuff. A vehicle's safety performance can make the difference between life and death in many accident scenarios.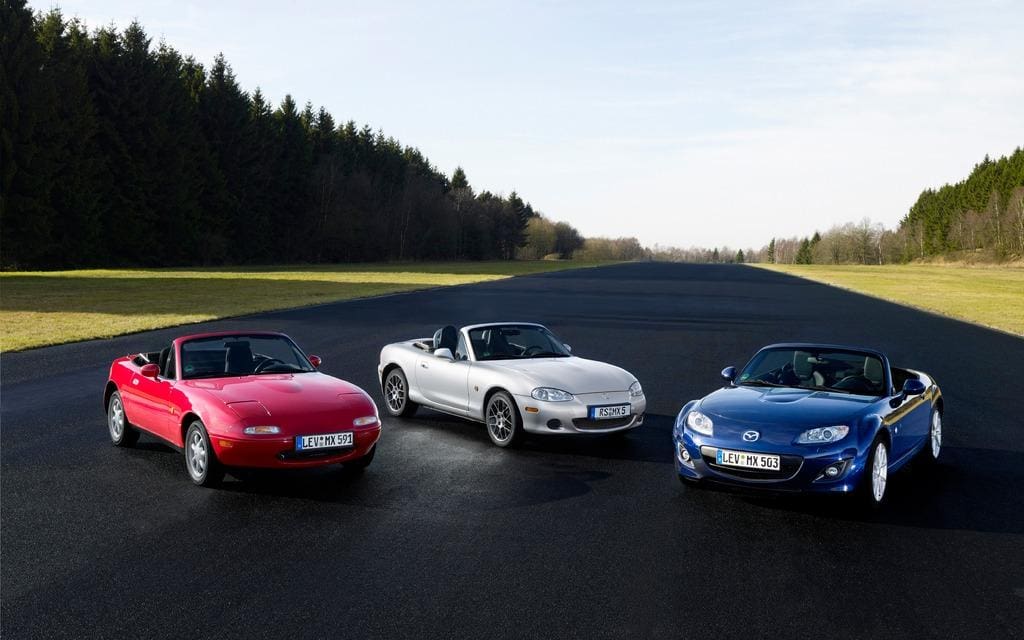 It's pretty much common knowledge among car enthusiasts that if you really get a kick out of driving, it doesn't get much better than wheeling a Mazda Miata down a road that on a map resembles dropped spaghetti. In fact, when you factor in its great reliability as well as its low acquisition and running costs, Mazda's sporty roadster is a strong candidate for "Bang for the Buck" champion of all time.
But even after you've decided you want to join Miata Nation, you've still got a tough choice to make. The model has been on the market for almost thirty years now, and for less than ten grand, you can pick up great examples from any of its first three generations (which Mazda engineers have dubbed, respectively, "NA," "NB," and "NC").
With pristine early examples, rare MazdaSpeed specimens, and even late-model retractable hardtops all within relatively easy reach, the hardest part of buying a used MX-5 may be figuring out exactly which one to pursue.
Not to worry. Below we've identified the pros and cons of each to make it easy to find the Miata that's perfect just for you.
While there are some excellent battery-powered vehicles like the new Chevrolet Bolt trickling into our garages, the good, old fashioned, oil pumping, octane swilling, internal combustion engine is still at the heart of the automotive experience. It has been ever since, some 130 years ago, Karl Benz bolted a one banger of his own design onto the back of a three-wheeled cart.
And it's been a glorious run. Sure, there were low points, like the anemic power plants that wheezed through the 1970s while automakers struggled to cope with strict new emissions and fuel economy regulations. Anyone remember the 1975 Ford Granada? Its 4.1 liter inline six had a California variant that puttered out just 71 horsepower. Folks, that's less than 20 horsepower per liter.
These days, though, your average minivan throws down 250 ponies and still gets nearly 30 highway MPG. Meanwhile, muscle cars like the Camaro ZL1 routinely deliver 600+ horses, and supercars are converging on the magic 1000 figure. These numbers would have boggled the mind not long ago — and likely would have caused poor Mr. Benz, whose motor wobbled out just two-thirds of a horse, to burst a mental gasket.
It's clear that we're in a golden age of engines. And that's great news. Because who doesn't want more power? Or more efficiency? Or both? The more great mills that are produced, the greater the chances that one will find its way into a budget-minded enthusiast's heart… and driveway.
Which got us to thinking, what are the very best engines to be had in cars that most anyone can afford? The Klipnik brain trust gathered recently to hash it out. We gave ourselves just two simple rules: 1) keep the picks from within the last 25 years and 2) make them choices that can easily be attained for less than $25,000 — preferably much less.
Here are the ten exceptional motors that made our list (in alphabetical order by automaker).