2001 BMW 325i with Red Leather Seats and a 5-speed
For July 25, 2021, our used car find is this 2001 BMW 325i sedan with 94k miles and a 5-speed manual transmission. It's offered on Craigslist by a private seller in the Miami area for $11,500 or best offer.
Here's what makes this one special.
The fourth generation of the BMW 3 Series, known by enthusiasts as the E46, debuted for the 1999 model year (in the US). It's considered one of the best 3 Series generations of them all, with classic lines, delightful steering and handling, and lively straight six engines with available manual transmissions. Read more about it in our article, BMW 3 Series E46 Generation (1999-2006) Buyer's Guide
This low-mile example hails from the 2001 model year, when the 325i received a modest bump in displacement and power. Its M54 inline six grew to 2.5 liters and 184 horsepower. That's good for sub-7 second sprints to 60 mph — not bad for just the "base" level 3 Series (in the US). This one's also perfectly-specced, with the Sport package, Xenon headlights, Harman Kardon audio, and of course a manual gearbox.
Better yet, the original owner opted for BMW's distinctive Tannin Red leather interior, offering a pop of color against its far more common Titanium Silver paint.
In the words of the seller…
Up for sale is a completely-stock 2001 BMW 325i Sedan Sports Package with a Manual Transmission.

This is a purist car enthusiast BMW. It's a unicorn. More pictures coming soon. This car is extremely fun to drive. It's easily one of the most popular BMWs of all time and is the best-selling model generation in BMW's history. Do your research on the E46.

Details:
– Inline six-cylinders 2.5 liter M54, bulletproof
– No accidents, original paint.
– 93,500 miles.
– Manual 5-SPEED
– Red leather interior, no tears, in excellent condition.
– Harman Kardon stereo
– HIDs headlights from factory
– ZSP (Sport Package) — The ZSP pack came with a three-spoke steering wheel, sport seats with additional thigh support and thicker side bolsters, sportier wheels with low profile tires, and a stiffer suspension.
– All-weather BMW Floor Mats
– New headliner, cupholders, center console, and some other interior pieces are new

Maintenance:
– The cooling system is new, changed 2,000 miles ago.
– Sparkplugs, and oil changed recently
– Clutch cylinder changed at BMW specialty shop in Pinecrest, FL.
– These cars are built to last 250k+ miles.

I need something more practical for my family. This car is too clean to daily drive with a 6-yr-old.

Message me for more info. The price is $11,500 OBO.

Thanks.
It's been a while since we've seen an E46 this compelling. Not only is it tastefully optioned, it's also reportedly very well kept, with all-original paint, no accidents, and lots of recent upkeep, including a new cooling system (something of a weak point for these), a new headliner, and a tune up.
The seller seems to know what he has, though, because the asking price is on the higher side — pretty close to 330i ZHP territory, if we're honest. Still, the listing does say "or best offer," so we wouldn't let sticker shock keep you from checking it out. You can always negotiate the price a bit, especially if you happen to discover any undisclosed issues.
Then again, if this one's as nice as it looks, it's likely worth a premium.
Here's a link to the listing on Craigslist
2001 BMW 325i Listing Details
2001 BMW 325i sedan (E46)
93,548 miles
2.5 liter naturally-aspirated inline six cylinder engine (M54)
184 hp @ 6000 rpm and 175 lb-ft @ 4500 rpm
5-speed manual transmission
Titanium Silver exterior with Tannin Red leather interior
for sale by owner for $11,500
Miami, Florida
WBAAV33411FV04557
2001 BMW 325i Photos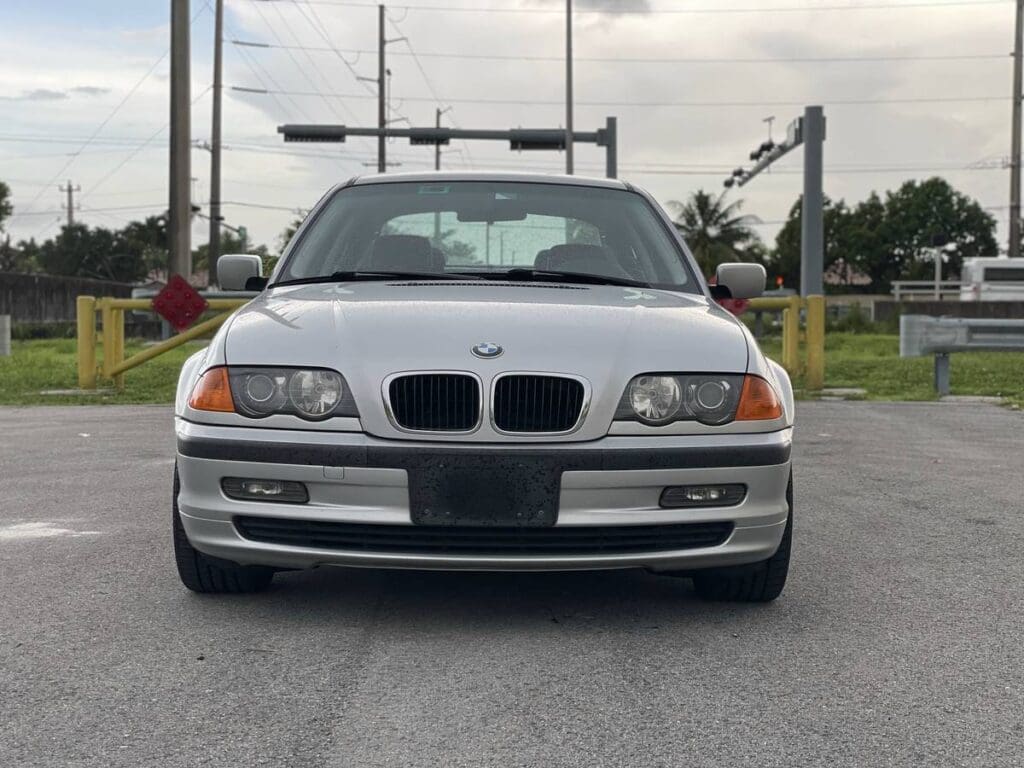 ---
---