1988 Nissan Stanza Wagon with 95k miles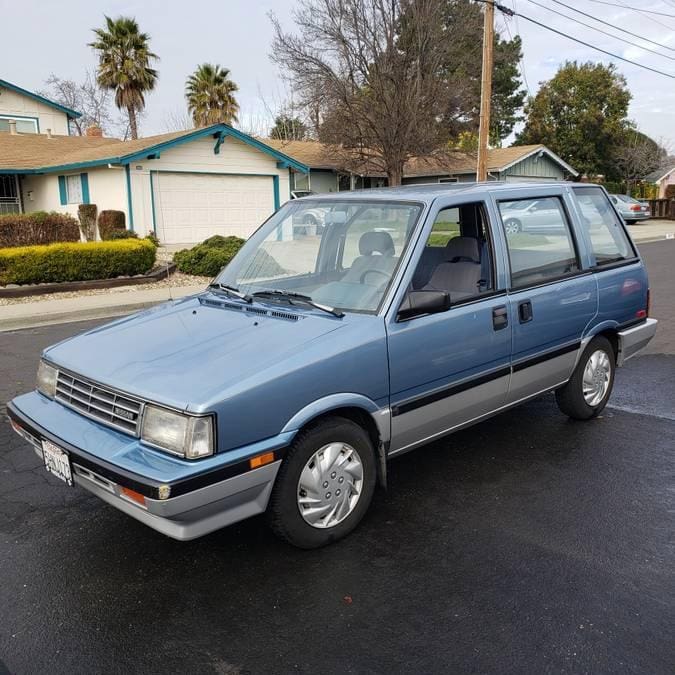 For August 16, 2020, our used car find is this unusual 1988 Nissan Stanza Wagon with 95k miles, which is listed on craigslist in the Bay Area for $4000.
Here's what makes this one special.
Introduced in 1982, the Stanza Wagon — which was known in other markets by the far more charming name, the Prairie — was an early version of the crossover, offering a high seating position, sliding rear doors, and enough greenhouse to grow a good-sized vegetable garden.
The quirky design, which features no B-pillar (the doors latch to the roof and floor instead), was heavily influenced by a cool 1978 Lancia concept by Giorgetto Giugiaro's design firm, Italdesign, which is also said to have inspired the modern minivan.
Nissan's version was quite innovative in its own right, with room for seven passengers (via optional folding jump seats), available four-wheel drive, a flat rear cargo floor, and a rear seat that could fold into a double bed.
Power from the 105 hp CA20DE inline four cylinder engine would probably be best described as adequate, especially when paired with the automatic gearbox. According to an account by Autoweek, it's capable of clocking a leisurely 20.1 second quarter mile at 68 mph.
MotorWeek's John Davis offered this mostly positive review of the Stanza Wagon shortly after its US debut:
The example offered here looks like one of the better kept Stanza Wagons left in existence, with not quite 100k miles and a remarkably clean appearance. It also benefits from being a final-year model, so all of the improvements made throughout the model's six-year run are included.
The seller reports that everything is working, including the AC, noting that the only issue at the moment is a slow power steering leak.
Considering the rarity and unusually good condition, the asking price of $4000 seems fair.
It's surely one of the cheapest ways to turn some heads at the next Radwood event.
Vehicle Details
1988 Nissan Stanza wagon
95k miles
2.0 liter inline 4 cylinder engine (105 hp)
4-speed automatic transmission
light blue exterior on grey cloth
for sale by owner for $4000
Concord, California
link to craigslist listing HERE
JN1HM05S0JX095981
---
Looking for the perfect used car? If this one has already sold, post your search criteria in our Community, where your fellow Klipsters will be eager to lend a hand.
---
Related Reads
---
---