Introduction
A great used luxury car for less than $25,000 may sound like a fantasy, but they're as real as rain. You just need to know what cars to shop.
Luxury cars are notorious for shedding value, which makes them great used car buys, and there are millions of nearly new, fun-to-drive, leather-lined sedans and coupes out there from BMW, Mercedes, Audi, Lexus, and other luxury brands just waiting for their next owners.
To help you find that special ride, we've created a list of seven used luxury cars we believe to be worth your time and money. These cars are less than seven years old and offer exceptional performance, comfort, and features. They're also strikingly styled, inside and out, and since safety is so important, they've all earned 5-star Safety Ratings from the National Highway Traffic Safety Administration (NHTSA) and Top Safety Pick honors from the Insurance Institute for Highway Safety (IIHS).
Here are our picks for best used luxury cars under $25,000, in alphabetical order.
The List
2017 Audi A6
A competitor to the more popular BMW 5 Series and Mercedes-Benz E-Class, the Audi A6 offers similar performance and luxury to its fellow-German rivals, but usually for a lower price. Known for designing attractive cars with rich interiors, Audi tends to evolve its styling slowly over time, so their cars don't look dated after a number of years. This is great news for used car buyers. An A6 from 2017 or 2018 looks very much like the latest version.
Audi did update the A6s exterior in 2017. The S-Line exterior styling package, which was previously optional, became standard. Inside, its infotainment system, which is easier to use than others in this class, was also updated. Google Maps and Wi-Fi hotspots were available. Real leather was offered, along with real wood and aluminum trim that give its cabin warmth but also a youthful, sporty vibe.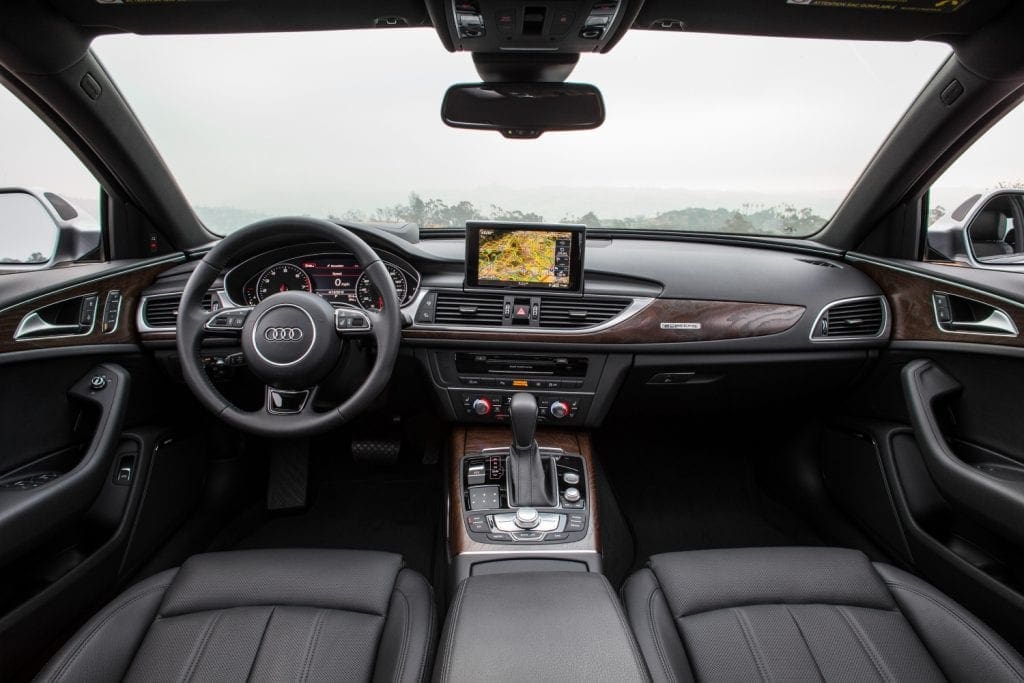 There were two different engine options and a couple of transmissions to choose from. The base engine is a powerful 2.0-liter turbocharged four cylinder. Available with either front- or all-wheel drive (AWD), it produces a 252 hp and 273 lb-ft of torque. Front-wheel drive models have a 7-speed dual-clutch transmission, while a traditional 8-speed automatic is paired with those equipped with AWD. A 3.0-liter supercharged V6 making over 330 hp and 325 lb-ft of torque was also available, paired exclusively with AWD and the 8-speed automatic.
With a 0-60 mph time of about 6.5 seconds, a four-cylinder A6 is more than powerful enough for most buyers. It also keeps the price down and  gets better gas mileage than the V6. Its EPA fuel economy estimates are 24 mpg city and 34 mpg highway — not bad considering its performance.
The 2017 Audi A6 was also given a Top Safety Pick+ rating by IIHS, its highest possible honor.
2017 BMW 3 Series
Germany's most popular sport sedan, the BMW 3 Series, basically defines the label, offering an inspired combination of luxury and performance that many competitors have tried to duplicate. Yet the 3 Series continues to be a favorite, racking up awards with every generation and remaining popular with driving enthusiasts. Like the Audi A6, the 3 Series' styling also evolves slowly, so used models continue to look fresh for many years.
BMW offered a variety of 3 Series trims for 2017.  The 330i features a turbocharged 2.0-liter four cylinder engine, which was updated for 2017 to became smoother, quieter, and a bit more powerful than earlier years. It makes 248 hp and 258 lb-ft of torque, which may not sound like much, but trust us, it's plenty. The 330i is pretty light for its size and hits 60 mph in about 5.5 seconds when equipped with the standard 8-speed automatic transmission. EPA estimates of 23 mpg city and 34 mpg highway are also impressive.
Buyers looking for more thrust can step up to the more expensive 340i, which is powered by a turbocharged inline six cylinder producing 320 hp. Both trims are available with either rear- or all-wheel drive, and 6-speed manual was available for row-your-own enthusiasts.
Inside, the BMW isn't as flashy as some of its rivals, but the materials are top notch and build quality is exceptional. The seats are comfortable but firm, which is common in German sport sedans. Now in its fifth-generation, BMW's iDrive infotainment system no longer requires a degree from MIT to operate.
Additional safety systems like blind-spot monitors, side- and top-view cameras, forward-collision warning, automatic braking and lane departure warning were all available, helping the 3 Series earn a Top Safety Pick+ rating from IIHS.
2017 Genesis G80
Genesis became its own luxury brand in 2017, after splitting off from parent company Hyundai. One of its first products was the G80, a rear-wheel drive midsize sedan built to take on the German establishment. For about two-thirds the price of a BMW 5 Series, it offered sporty performance, luxurious appointments, high levels of safety, and a spacious interior. All-wheel drive was also an option.
The 2017 G80 gave buyers two engine options. Most popular was a 3.8-liter V6 making a healthy 311 hp. Even more impressive was the available 420 hp 5.0-liter V8. Both are paired with an excellent 8-speed automatic, providing smooth and refined acceleration. As much as we like the rumble and additional thrust of that V8, a G80 is plenty quick with the standard V6, hitting 60 mph in less than 6 seconds. Plus, the V6 isn't turbocharged, so it runs well on cheaper regular grade gas, keeping operating costs down.
On the inside are all the usual luxuries, including heated seats, navigation, leather, a sunroof, wood trim, and keyless entry. A few option packages added real leather, a two-panel sunroof, ventilated front seats, rear window shades, a huge 9.2-inch infotainment touchscreen, and a power trunk.
Blind-spot monitoring with rear cross-traffic alert, lane-departure warning, lane-keep assist, and adaptive cruise with automatic emergency braking were all standard, helping to make the G80 an IIHS Top Safety Pick+.
2017 Infiniti Q70
When most people think of an Infiniti sedan, they think of the brand's popular midsize model, the Q50. No problem there — it's good product that offers a compelling blend of style, features, space, and performance. However, the 2017 G50 was not an IIHS Top Safety Pick, so it doesn't qualify for our list. Instead, we have something better: the larger Q70.
Back in 2017, Infiniti's biggest sedan was available in two sizes, the more popular Q70 and the Q70L, with 5.9-inches of additional wheelbase and considerably more rear seat legroom. Infiniti offered three powerplants in the Q70, as well as the choice of rear- or all-wheel drive, each mated to a 7-speed automatic transmission.
Standard was a potent 330 hp 3.7-liter V6, which was shared with the Q50, while a big, snorty 5.6-liter V8 was optional. The latter's 416 hp make it the most powerful sedan on our list — and one of the quickest, hitting 60 mph in less than 6 seconds. Infiniti also offered the Q70 Hybrid, which pairs the V6 with a small battery pack and an electric motor. It gets the best mileage of the three, but was also the most expensive and sold in very small numbers.
The cockpit-inspired design of the Q70's cabin may look a little dated, having been around since 2014, but it's comfortable, very well put together, and well equipped. Heated leather seats and a heated leather steering wheel were available along with an 8.0-inch touchscreen, navigation, and a 10-speaker audio system.
When equipped with the available active safety features, which include a 360-degree parking camera, forward collision warning, blind spot warning, forward emergency braking, adaptive cruise control, and lane departure warning, the 2017 Q70 was an IIHS Top Safety Pick.
2017 Lexus ES
The ES is the best selling Lexus sedan ever. Earlier in its history, it shared its chassis and wheelbase with the Toyota Camry, but switched mechanical partners in 2012. That year, Lexus gave the ES the longer wheelbase of the full-size Toyota Avalon. With the change, the ES offered more rear seat space than ever before, and its already impressive ride quality became that much smoother. In 2016, the ES was improved further with tweaks to its exterior and cabin, which became a little sportier.
Because Lexus has such a strong reputation for quality, its cars and SUVs hold their value well. However, in our research, we easily found a good number of ES models available below our $25,000 price threshold.
Lexus offered the ES in two versions for 2017, the ES 350 and the ES 300h, which is a hybrid. The ES 350 is powered by a 3.5-liter V6 making 268 hp and 248 lb-ft of torque. Paired exclusively with a 6-speed automatic, it delivers 21 mpg city and 31 mpg highway. And it's quick, hitting 60 mph in about 5.8 seconds. With two fewer cylinders and just 200 hp, the hybrid is about two seconds slower to 60 mph, but it gets much better fuel economy, averaging 40 mpg city and 40 mpg on the highway.
Safety is another big part of the Lexus sedan's appeal. Adaptive cruise control, lane departure warning with steering alert, forward collision warning, and automatic emergency braking were all available, and the ES did extremely well in crash tests performed by IIHS. With the available LED headlamps, the ES 350 was rated a Top Safety Pick+.
2017 Mercedes-Benz C-Class
The Mercedes C-Class was all-new for 2015 and sleeker than before, featuring a lighter but stronger chassis made possible through the use of more aluminum. Production also shifted from Germany to the US factory in Alabama. Three versions of the sedan were offered: the rear-wheel drive C300, the all-wheel drive C300 4Matic, and the C350e, which is a hybrid.
Each version got Benz's turbocharged 2.0-liter four-cylinder engine, backed by a 7-speed automatic gearbox. The powertrain, widely praised for its refinement, produces 241 hp and a strong 273 lb-ft of torque. It's also quite fuel efficient, with EPA ratings of 24 mpg city and 34 mpg highway, with rear-wheel drive. With all-wheel drive, the highway number dips slightly to 31 mpg. The hybrid model pairs the 2.0 liter with a small battery pack and an electric motor for a total combined output of 275 hp and 443 lb-ft of torque, and also offers a modest EV range of 9 miles.
This generation of the C-Class also has an exceptional interior, which is as thrilling to look at as it is comfortable. Open the door, and you're greeted with a cabin worthy of a concept car. Even the speaker grilles are special.
The Merc also receives top marks for safety. Collision Prevention Assist Plus was standard and can apply the brakes up to 65 mph to help avoid an accident. When equipped with other optional safety systems, including Active Blind Spot Assist, Active Lane Keeping Assist, and Blind Spot Assist, the C-Class sedan was an IIHS Top Safety Pick.
2017 Volvo S90
Volvo's recent resurgence began with its widely lauded XC90 redesign in 2015 and continued with the introduction of its all-new flagship sedan, the S90, two years later. The 2017 S90 wore the brand's new design language extremely well, and its clean and simple cabin, featuring light woods, polished aluminum, and a large 9-inch touchscreen, put the Swedish brand back in the big luxury sedan game.
Volvo offered a few variations of the S90, including a hybrid, but here we'll focus on the T5 and the T6 versions, which are both powered by a 2.0-liter four cylinder that's not just turbocharged but also supercharged — or "twin charged," in Volvo speak. This engine makes 250 hp in the base T5, but it's turned up to 316 hp in the T6. Either way, it's mated to a smooth 8-speed automatic transmission, and neither is slow. The T5 hits 60 mph in less than 6.5 seconds, while the more potent T6 is about a second quicker. Front-wheel drive was standard, with all-wheel drive available as an option.
Volvo's trim level nomenclature can be confusing. Just for the record, Momentum is lower than Inscription. If you care about sound, look for an example with the optional Bowers and Wilkins premium audio. It was an expensive option, but the sound quality is incredible. At the same time, you may want to avoid the cars with the optional 20-inch wheels, which don't ride well on rougher roads.
The Volvo brand is basically synonymous with safety, so it's no surprise that the 2017 S90 was an IIHS Top Safety Pick.
The Bottom Line
In a world where the crossover is king and everyone seems to want an SUV, a used luxury sedan can be a surprisingly good value. They're well made and offer great performance, tons of features, as well as top levels of safety. And thanks to the magic of depreciation, models that sold for between $50,000 and $70,000 just three years ago — and which are still new enough for Certified Pro-Owned programs — can now be yours for the price of a new Honda Civic.
That makes buying a used luxury car a not-so-hard bargain.
Photos courtesy BMW, Genesis, Infiniti, Lexus, Mercedes-Benz, and Volvo