The C30 is a different kind of Volvo. It's small and nimble. It's entertaining and quick. It's brash and stylish. In other words, it's everything that most Volvos are not.
At the same time, it's very much a Volvo — an upscale, safe, and reliable conveyance that traces its roots to classic models from the Swedish automaker dating back to the 1970s.
Best of all, the C30, produced from 2008 to 2013, is now an affordable used car, with excellent examples available for as little as $10,000.

Introduction
The C30 hails from the Ford era at Volvo — in other words, from the period (1999-2010) when Ford acquired and oversaw the company as part of its Premier Auto Group, which also included Jaguar, Land Rover, and Aston Martin. This is generally a good stint for Volvo, as Ford invested heavily in the company to modernize its offerings. One benefit of Ford's oversight is that the C30 is built on Ford's excellent "C1" platform, which it shares with other highly-rated compacts like the Mazda 3 and the Ford Focus — plus, of course, the C30's close siblings, the Volvo S40 sedan and V50 wagon.
The C30 is essentially a two-door hatchback version of the S40 sedan, with 8 inches chopped off the back. But it owes its distinctive look to a much older model: the 1972 P1800ES (pictured above), a shooting brake version of Volvo's dashing P1800 coupe, which earned fame in the 1960s as Roger Moore's daily driver in the hit TV show, The Saint. The initial design, which debuted at the 2001 Detroit Auto Show as the Safety Concept Car (SCC), prioritized drivers' ability to see and respond to their surroundings. That carries over to the production car in the form of expansive glass fore and aft as well as narrower door and windshield pillars, making the C30 one of the best modern cars for outward visibility.
Reviewers of the day lauded the C30 not only for its design but also for its performance and handling. In its road test, Car and Driver praised its "sure-footed reflexes paired with no-complaints ride smoothness." Compared to its main rivals, the Volkswagen GTI and the Mini Cooper S, they noted that "the C30 has a trusty feel, reliable in its responses, predictable, in that sense rather like the GTI, and altogether more relaxed, and relaxing, than the twitchy Cooper S."
With its comfortable, quiet cabin and compliant ride, plus Volvo's generous standard safety features, including front, side, and side-curtain airbags, side impact protection, and both traction and stability control, the C30 offers a grownup twist on the hot hatch formula. We think that's something most drivers will appreciate and enjoy.
Engines and Transmissions
Much of the C30's magic comes from under the hood. There you'll find Volvo's familiar "T5" 2.5 liter turbocharged inline five-cylinder engine, producing 227 horsepower and 236 pound-feet of torque. That's quite healthy for such a small car, far surpassing competitors of the day. For reference, the Mk6 VW GTI offers 200 hp from its 2.0 liter turbo four cylinder, while the 1.6 liter unit in the R56 generation Mini Cooper S produces 181 hp. In Europe, the C30 could be had in a wide variety of powertrains, including flex fuel and diesel variants, but it was only imported to the US with the top-of-the-line T5 mill.
The C30 came standard with a 6-speed manual gearbox. That's a rarity for US-bound Volvos and is another large piece of the C30's appeal. However, the majority of buyers opted for the $1250 automatic, with only about one in five (according to CNN) choosing to row their own gears. That means if you want to save the manuals in a C30 you'll have to work a little harder to find one. But at least they're out there.
There's also good news for those who prefer two-pedal driving. The C30's Aisin-supplied 5-speed automatic, which is used widely across Volvo's lineup, is no slouch of a gearbox. It pairs nicely with the boosted T5 power plant, helping to smooth out turbo lag. In fact, in this Car and Driver take from 2010, they say, "this is one of the rare occasions when we recommend the slushbox. In our experience, the C30's manual, with its rubbery shifter and feedback-free clutch, doesn't add any driver involvement." So rest assured that if you opt for the automatic you're not settling for a second-rate driving experience.
Routing power to the front wheels (AWD was never offered), either transmission is capable of sub 7-second 0-60 times, with the manual about half a second quicker than the automatic. The automatic has a slight edge, though, when it comes to fuel economy. It achieves 21 mpg in the city and 30 mpg on the highway, while with the manual highway economy drops slightly to 29 mpg.
Features and Options
Inside, the C30 looks very much like other Volvos from the era, with blessedly simple gauges and Volvo's signature "floating" center stack, housing the audio and climate controls. Fold the front seats forward, and there's room for two adults in the spacious rear buckets. Materials are quite upscale, especially compared with other compacts, with plenty of small luxuries like a leather-wrapped steering wheel and (available) contrasting two-tone upholstery.
The C30 was Volvo's entry-level car in the US, with prices starting around $23,000. But it was available with a wide variety of optional features that quickly boosted MSRPs north of thirty grand. "It's too expensive" was a common gripe when the C30 was new. But now that depreciation has worked its magic, these extra goodies can be had for mere pennies on the dollar, making well-equipped examples the ones to buy.
Volvo sold the C30 in the US primarily in two trims. The "base" T5 came well equipped with 17 inch alloy wheels, an 8-speaker, 160-watt audio system, and 50/50 split folding rear seats. The top-of-the-line R-Design offered some notable upgrades, including 18-inch alloys, a more powerful 10-speaker Dynaudio sound system, stiffer suspension settings, as well as body-color exterior trim. The C30 options list was long and included: Xenon headlights, navigation, heated seats, keyless ignition, a sunroof, and a blind-spot warning system (or "BLIS" in Volvo lingo). Many of these were later bundled into various packages — see the Model Year Changes section below for details.
Despite the versatility of its glass rear hatch, the C30 doesn't quite stack up to competitors when it comes to cargo space. With the rear seats in place, it offers 13 cubic feet of storage, which expands to 20 cubic feet with the rear seats folded flat. The latter figure is a bit less than a Mini Cooper (despite the Cooper's smaller overall size) and less than half that offered by a VW GTI. So the C30 is probably not the best choice for stocking up at Costco — though at least you'll have fun getting the ice cream home before it melts.
Safety
Volvo made safety a priority for the C30, which is very much on-brand and also quite welcome in a smaller car. As previously noted, the hatchback is equipped with front, side, and side-curtain airbags as standard equipment. Also included are anti-lock brakes (ABS) with automatic brake assist, traction and stability control, and Volvo's side-impact protection system (aka SIPS). Additionally, its chassis incorporates high-strength steel throughout to protect occupants, while the engine compartment and cargo area are both designed to deform progressively to absorb crash impacts.
The C30 was also one of the first production vehicles to offer a blind spot warning system, which Volvo markets as the "Blind Spot Information System," or BLIS for short. The system utilizes cameras under the side mirrors to detect vehicles in the blind spot and warns the driver via an orange light at the base of the A-pillar. BLIS was optional on the C30 for each year of its six-year production run.
Given this attention to safety, it's no surprise that the Insurance Institute for Highway Safety (IIHS) named the C30 a "Top Safety Pick" for the 2009 through 2013 model years.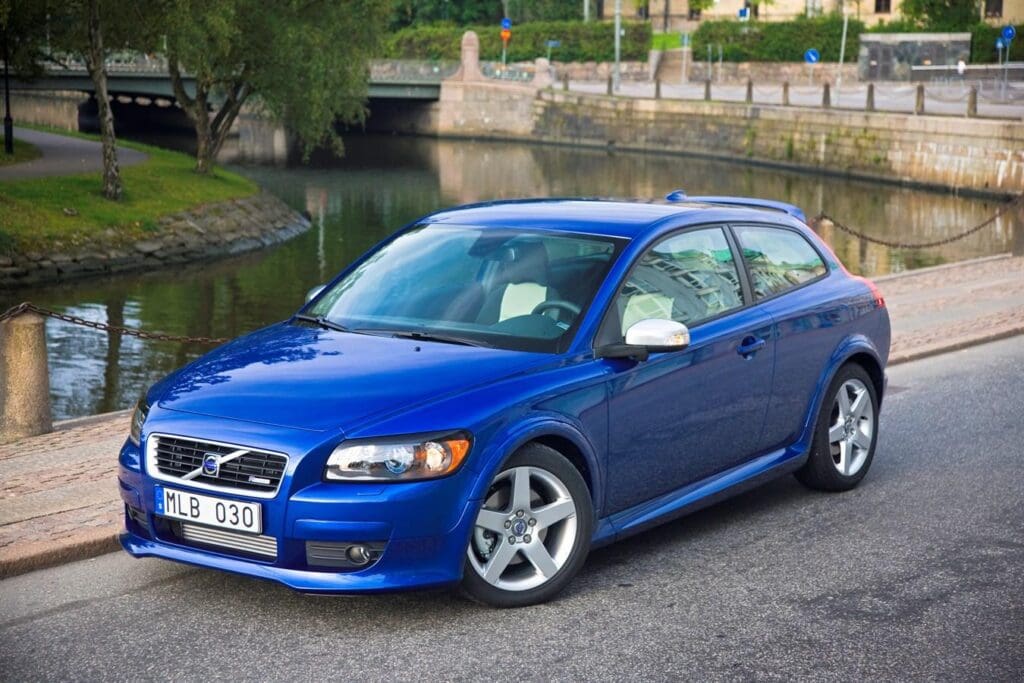 Model Year Changes
The C30 debuted for 2008. For this year only, the T5 trim was offered in "Version 1.0" or "Version 2.0," with the latter offering many of the goodies from the R-Design trim, including the larger 18-inch wheels and upgraded Dynaudio stereo. The initial year of the R-Design, meanwhile, was limited to just 400 units.
For 2009, Volvo dropped the "1.0" and "2.0" nomenclature, and buyers could instead choose either the base T5 or the upgraded R-Design. The latter was no longer a limited offering, so anyone looking for a used C30 in R-Design spec will find a far greater supply of them from 2009 on.
In 2010, Volvo bundled the C30's various options into three packages. The "Preferred" package includes power front seats, Xenon headlights, and keyless entry and ignition. The "Multimedia" package adds the upgraded 10-speaker Dynaudio sound system. And the "Climate" package offers heated front seats, automatic climate control, and rain-sensing wipers.
Bluetooth connectivity also became standard for all C30 versions in 2010 (and for all subsequent years).
For 2011, the C30 received a mild exterior refresh (pictured above). It's most obvious in front, where designers updated the grille to a honeycomb style and also gave the fenders and headlights a more sweeping, aerodynamic look.
Volvo again revised the C30's option packages for 2012, offering two new groupings. "Premier Plus" bundles power front seats, aluminum interior inlays, a sunroof, and LED running lights, while "Platinum" includes memory for the driver's seat, navigation, and the Dynaudio surround-sound stereo.
A USB port was also added to the infotainment system in 2012 (which carries through for 2013 also).
For 2013, Volvo made one last tweak to the option packages, slotting in the "Premier" package, which includes a power driver's seat and a sunroof, below "Premier Plus," which adds a power passenger seat plus Xenon headlights and keyless entry and ignition. The top-end "Platinum" package continues to offer navigation and Dynaudio sound.
To celebrate the C30's final year, Volvo introduced the Polestar edition (pictured above), a limited-production, high-performance variant. Volvo tuner Polestar tweaked the T5 engine for 23 additional ponies (to 250 hp) and 37 additional pound-feet of twist (to 273). Volvo made just 250 of them, all in vivid Rebel Blue with unique matte black 17-inch alloys.
Problem Areas
With its solid Ford C1 underpinnings and Volvo's tried-and-true inline-5 engine, the C30 gets good marks for reliability and ease of maintenance. Parts — which are shared across several related models, including the S40, the Mazda 3, and even the mighty Ford Focus RS — are readily available and reasonably priced. That said, there are a few areas to keep an eye on when you're scoping out a used C30 for purchase.
Most notably, be aware that the C30's T5 engine requires a timing belt change. The factory interval is every 120,000 miles, but some mechanics recommend changing it even more frequently. That's because a timing belt failure in this engine will cause major damage. This guide on Pelican Parts suggests changing the timing belt every 60,000 miles just to be safe. It's not a particularly complicated job, but it does take time. Parts and labor usually run about $800-$1000 at an independent Volvo specialist.
Other wear items to check around the same mileage include the front control arms and bushings, rear suspension bushings, brake rotors, and water pump. Ideally, you'll find a car that's already had most (or all) of these items replaced. Otherwise, expect to have them done during your ownership.
Volvos of this vintage can suffer from problems with the anti-lock braking system (ABS). The first clue that this is happening is an intermittent ABS warning light in the gauge cluster (which reads "Anti-skid service required"). If left unaddressed, this can lead to increased brake pedal pressure, wheel lock up, and eventually brake failure. The fault often lies with the ABS control module, which is a pricey part and typically requires a professional install. Expect to pay around $1500 to have this addressed.
C30 owners have also reported problems with the air conditioning system, particularly intermittent cooling. When you're checking out a used C30 to buy, make sure to test that the AC is blowing cold throughout your test drive, not just for the first few minutes. Intermitted AC often results from a failing AC compressor clutch. It's technically a wear item and needs to be replaced every 5-10 years, depending on usage. Fortunately, it's not a tough job, though the part itself will run you about $300. If you're handy, this guide on the FCP Euro website estimates that it can be swapped out in as little as 30 minutes. Or expect to pay around $500 (total) at the repair shop.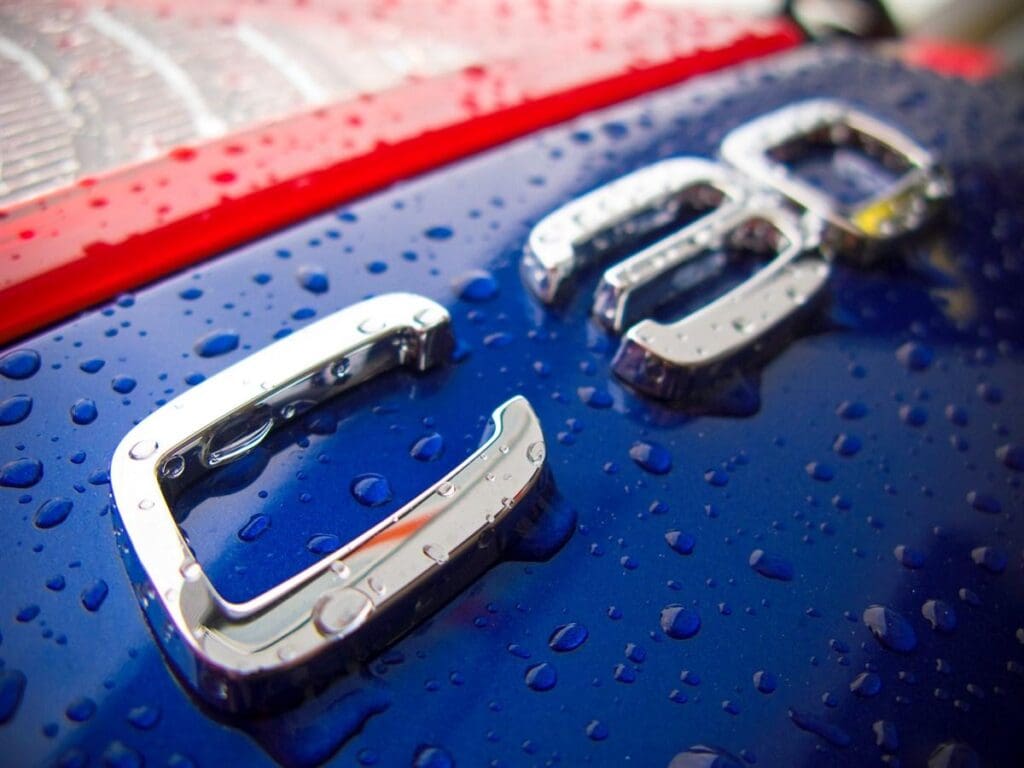 Buying Tips
The C30 didn't sell in massive numbers. In fact, only about 22,000 total were sold in the US during its six-year run (2008-2013). That means used C30s can be somewhat hard to come by, especially if you're looking for one in a particular color or spec.
Given the relatively limited supply, we recommend casting a wide net in your search for a nice used C30. This will give you the widest selection and help to ensure you're purchasing the very nicest one within your budget. That could mean buying a car from another city or state, which sounds scary if you haven't done it before but is actually fairly straightforward. To learn more about the process, see our story, Buying a Car Out of State: When It Makes Sense and How to Do It.
In a recent search on Autotrader, we found 76 used C30s for sale nationwide, with prices ranging from a low of around $5000 for early model years with higher miles (over 150k) to nearly $20,000 for final year models with very low miles (under 20k) and unusual colors and options. One particular outlier of note: a limited-edition Polestar example with just 30,000 miles sold on the Bring a Trailer auction site recently for a whopping $26,500, likely a high water mark for the model.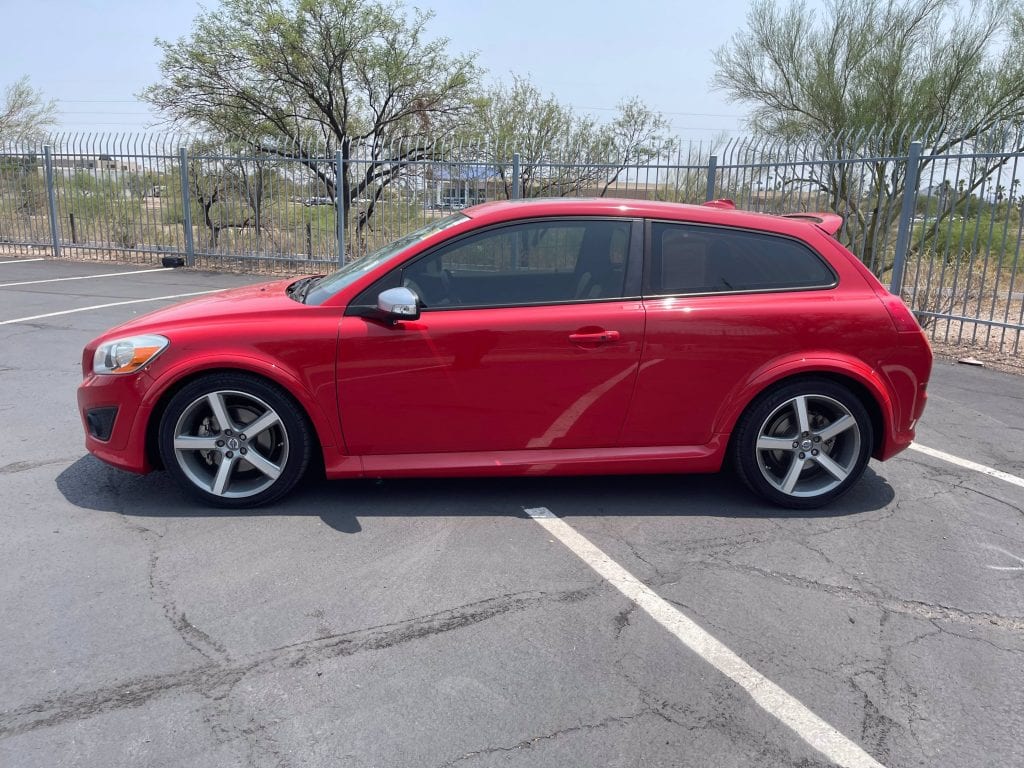 But the sweet spot for used C30s is $10,000 to $15,000, where you can find plenty of sub-70,000 mile examples from the last few model years with desirable options — such as this one-owner, accident-free 2011 C30 R-Design (pictured above) with 67k miles and in great spec (with options like leather seats, a sunroof, keyless entry/ignition, and the blind-spot warning system), which is offered by a dealership in Tucson for $13,555.
As noted previously, only about 20% of all C30s came equipped with a manual transmission, so if you're interested in shifting your own gears you'll have to be somewhat patient in your hunt. You may also have to pay a bit extra, as 6-speed examples also tend to command premium prices.
Before you spend ten grand or more on a used C30, we highly recommend hiring a Volvo specialist to evaluate it. For about $250, they'll provide you with a thorough inspection of the entire car. This can reveal major, deal-breaking issues, like hidden damage from an accident, or minor things that you can use as bargaining points, like worn brake pads. Either way, it's easily worth the money to complete a professional inspection prior to finalizing any used car purchase.
To learn more about finding a good local mechanic, check out our article, How to Find a Good Auto Mechanic That You Can Trust.
The Bottom Line
Sure, the GTI is a great car, and the Cooper S is a ton of fun. But if you're looking for something a little different — and dare we say more sophisticated — a used C30 is a very compelling option. With its great styling, powerful engine, and civilized road manners, the Volvo C30 is easily the best hot hatch most people have never heard of.
All the more reason to seek one out and buy it before the secret gets out.
Photos courtesy of Volvo