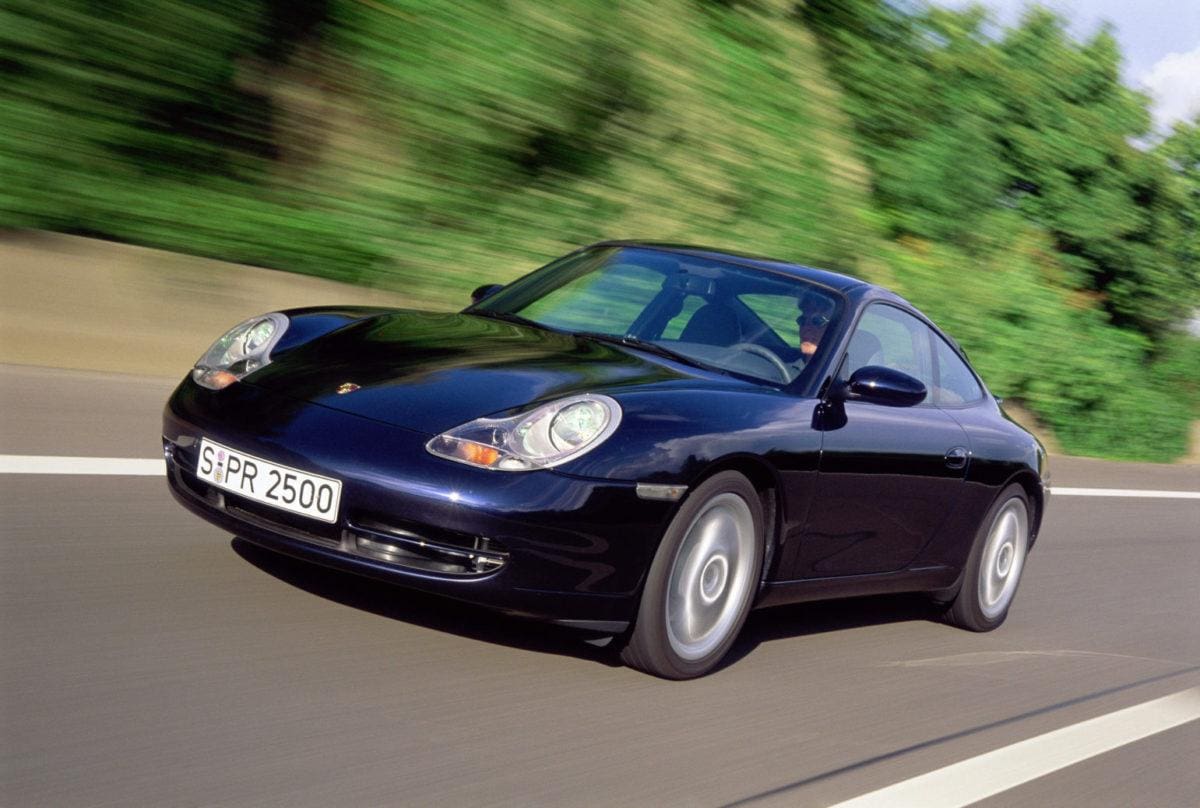 The ever-increasing mania and resulting skyrocketing values of air-cooled Porsche 911s have put those cars way out of reach for most buyers. Meanwhile, prices for the 996 generation, the first 911 with a water-cooled engine, have languished, in part because the prevailing wisdom among Porsche collectors is that the sun rises and sets only on the air-cooled cars.
Values are depressed, too, because of a known design flaw in the standard 996 engine that can, if not attended to, lead to a catastrophic failure, costing tens of thousands to repair. While this understandably gives most buyers pause, the truth is that a preemptive fix is readily available — and, even better, that many 996 examples on the market today have already had it applied.
This is all great news for the more practical enthusiast who wants to get in on the all-around goodness of Porsche's iconic and entertaining sports car but without breaking the bank.
If you're in the market for an inexpensive Porsche 911, there is no better choice than the 996. In this buyer's guide, we'll teach you everything you need to know to find and buy the perfect one for you.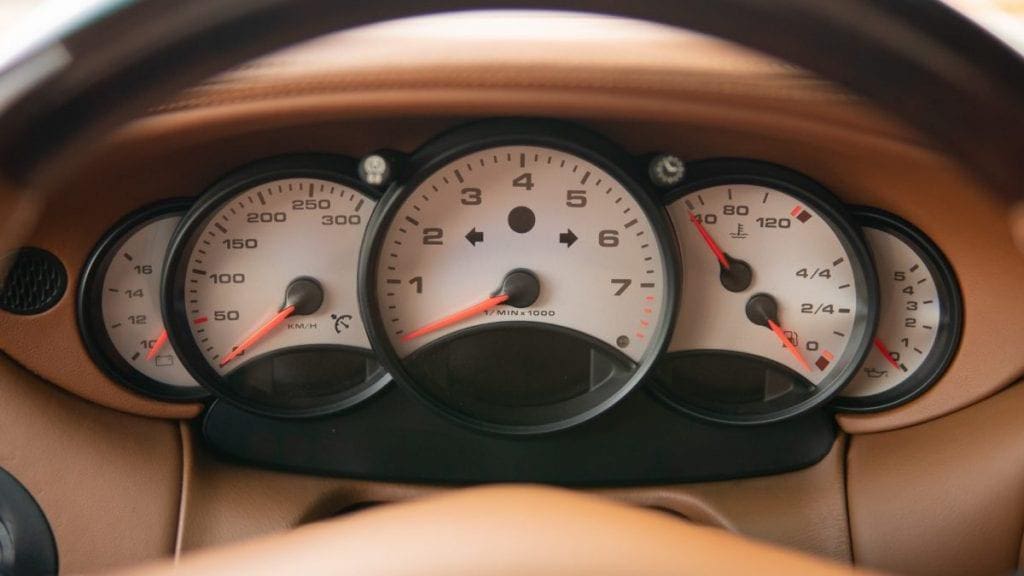 Introduction
Introduced for 1999 and replacing the 993 generation (the last of the air-cooled 911s), the 996 was praised for its performance but derided by many die-hard enthusiasts for its switch to water cooling, an overly-muffled engine/exhaust note, the Boxster-sourced front-end styling and some cheap interior components that had no place in a $70,000-plus car.
Yet the reality is that compared to the vaunted 993, the 996 is lighter, more powerful, quicker and faster. It also boasts sharper handling and more powerful braking. And let's not forget about heating and air conditioning systems which work really well. Lastly, an inexpensive modification known as the "Gundo hack" (wherein a small piece of pipe is spliced between the mufflers' inlet and exhaust outlets) transforms the lackluster factory soundtrack, giving this 911 a truly pleasing growl when you lean on the throttle.
And it all comes wrapped up in (apart from the headlights) classic 911 style. As such, those who want the thrill of driving a high-performing Porsche 911 that won't cost them fifty grand or more should strongly consider the 996. Word is getting out, however, and values are slowly on the rise.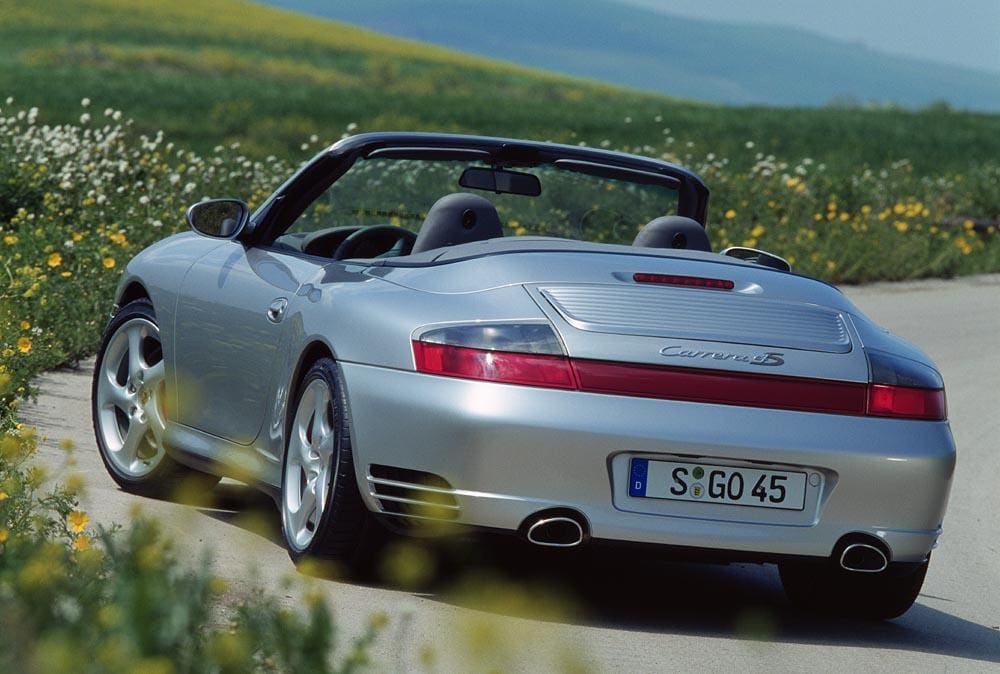 Model Year Changes
Note that in keeping with Klipnik's bang-for-the-buck philosophy we are focusing on the more affordable versions of the 911 here — i.e. not the Turbo, GT2 or GT3.
1999
At its debut, the 996 sported a 3.4-liter, DOHC flat six with variable valve timing. Output was a stout 296 horsepower, 14 more horses than a 993 and good for 0-60 in 4.9 seconds and a top end of 174 mph. Yes, this is the base version we are talking about here. For this first year, the 911 was available in coupe and convertible ("Cabriolet") body styles, as well as with a choice of rear- or all-wheel drive, with the former dubbed "Carrera 2" and the latter known as "Carrera 4." A six-speed manual and five-speed "Tiptronic" automatic were the transmission choices.
A few arguments can be made for going with a '99 versus a later year. One is that it has a mechanical (cable-operated) throttle versus electronic throttle control, which some drivers prefer. Another is that several sources indicate this is the only year a limited-slip differential was available on the basic (non-Turbo/GT3/40th Anniversary) 911. Lastly, for this year the infamous IMS bearing is of a stouter dual-row design – Porsche went to a weaker single row design sometime during the 2000 model year – and as such the failure rate on 1999 versions is quite a bit lower than those that followed with the single row unit. However, since replacing the IMS bearing with an upgraded aftermarket unit is advised regardless of the model year, this could essentially be considered a moot point.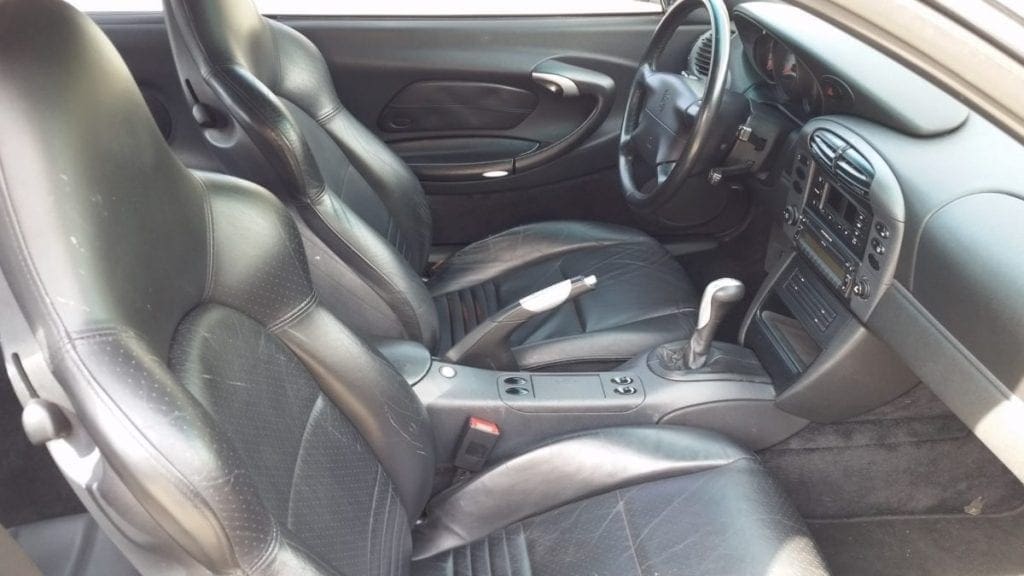 2000-2001
For 2000, the 996 picked up a bit more power (for a total of 300 horses) and stability control. The latter, previously only available on the Carrera 4, could now be had on the Carrera 2. Apart from the reemergence of the mighty Turbo, the 911 continued mostly unchanged for 2001.
2002-2004
Freshened styling took place for 2002, as the front end became more distinct from the Boxer via the adoption of the "eyes-wide-open" headlights seen on the Turbo the previous year. Other news that year included the engine growing in size (to 3.6 liters) and power (now up to 320 hp), the return of the Targa body style, a glass (versus plastic) rear window for the cabriolet, the debut of a real glove compartment in the dash along with a single cupholder.
Other changes for 2002 weren't as obvious but still noteworthy as they included improved aerodynamics for greater high-speed stability, a reinforced structure for increased rigidity (and hence even crisper handling response) and lighter 17- and 18-inch wheels. The Carrera 4S variant debuted this year as well, which was essentially a Turbo but with the standard 911 engine. As such it featured the larger front fascia air intakes, a wider rear body (minus the Turbo's air intakes), a lowered suspension and bigger brakes. It lacked the Turbo's bigger rear spoiler but had a red reflector strip between the taillights providing further distinction from the standard Carrera.
Given all these upgrades, a Porsche 911 from 2002 through 2004 (no notable changes made for '03 and '04 for the standard 911), will likely be the sweet spot for most buyers unless they happen to prefer the earlier styling and/or want a limited-slip differential.
Should you hit the lottery while considering a 996, know that a couple of unicorns appeared during this time frame. The gonzo GT2 — which was essentially a 911 Turbo with even more power (456 hp), rear-wheel drive (versus AWD), and no stability control — debuted for 2002. Two years later, its brother, the GT3, debuted, which was very similar to the GT2 but with a naturally-aspirated (non-turbocharged) engine making 380 horsepower. Attendance at a high-performance driving school is highly recommended for those fortunate enough to add one of these feisty thoroughbreds to their stable.
Problem Areas
The 996 has been somewhat unfairly blacklisted due to the potential failure of the Intermediate Shaft bearing (IMS) referenced earlier. Should it fail, the engine will likely be destroyed. Note that the early cars with the dual-row bearing reportedly have a less than 1% failure rate, while the single-row versions have an 8% failure rate.
Although the odds are in your favor of it not failing, it is certainly something you don't want to think about while out enjoying a spirited drive in your high-performance sports car. The good news is that an upgraded retrofit for the IMS is readily available. LN Engineering is a very popular supplier of these components.
As plenty of the 996s seen for sale have already had the IMS upgrade done, we suggest focusing your search on those examples. That said, if you found a pristine, low-mileage example that checked out fine with a pre-purchase inspection (PPI) but lacked the IMS upgrade, you could factor that cost into your negotiation and have it done after you've bought the car.
Other potential trouble spots include a leaking rear main seal (RMS), a cracked/leaking coolant overflow tank and leaking spark plug tubes. Also the water pump and ignition switch aren't known for their longevity. For reference, a reputable shop in Los Angeles quoted us $3,000 to have the IMS upgrade, a new clutch and a new RMS installed, including parts and labor.
That may all sound pretty scary, but these are actually pretty robust cars once these issues are addressed, if they're even present. However, as when considering any older car purchase, comprehensive maintenance and repair records are vital, and we highly recommend getting a PPI.
Buying Tips
An optional "Aero kit" does wonders for these cars in terms of appearance, providing a much more aggressive look via a reshaped lower front fascia and handsomely sculpted side skirts. A fixed rear spoiler, nicknamed the "Taco" spoiler on earlier versions for its shape, was also available with the Aero kit. The kit was sometimes dealer installed, so you may not see the option code for it on the sticker inside the front compartment lid even though the car has it.
Though you may see some cars for sale with aftermarket 19-inch wheels, we recommend staying with the standard 17s or factory optional 18s so as to minimize unsprung mass and also preserve the 911s relatively supple ride over broken pavement.
The stock Porsche audio systems, even the optional ones, aren't known for their high-fidelity, and indeed may not even work properly in these older 911s. Still, if you find a car with an aftermarket system or are considering having one installed, keep the stock audio unit on hand in case you should ever sell the car, as some folks like to keep everything original.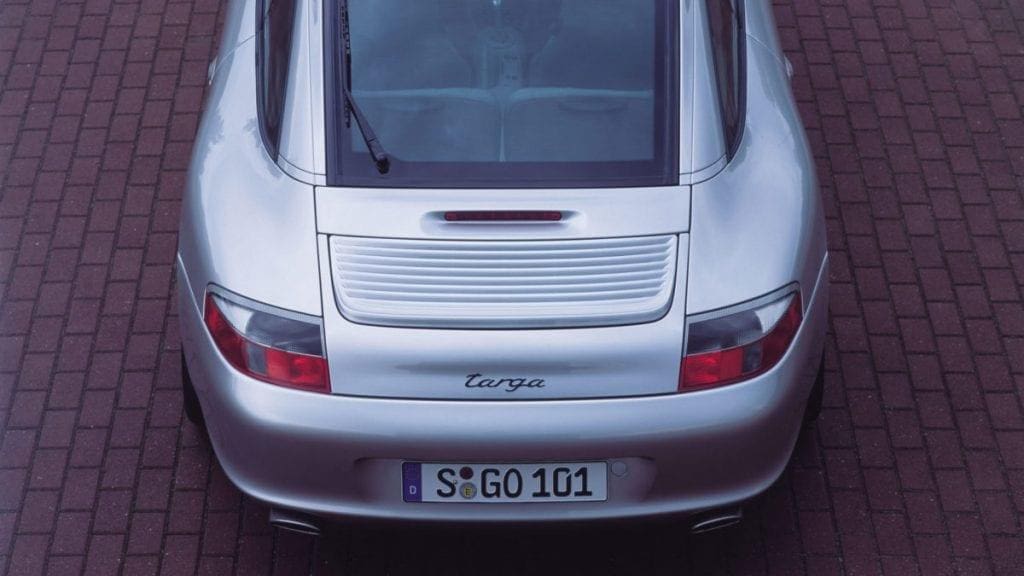 Estimated Values
$28,000+ buys you a 996 in top condition inside and out, with low miles (50k or less), that could also have some costly, tasteful upgrades done such as the fitment of high-end suspension or audio components. Note that a Carrera 4S in this condition and mileage will command a higher price, probably $35,000 or more.
$24,000-$28,000 buys you an excellent example with lower mileage (typically under 75k) that has a solid maintenance history, a very nice body and interior and no issues. The upper part of this range may also get you a Carrera 4S, albeit likely one with over 100k miles.
$20,000-$24,000 buys you a very good 996 with a strong maintenance history and under 100k miles. There should be no big ticket needs here. You'll see more of the 2002 and newer versions in this price range.
$17,000-$20,000 buys you a solid example with higher mileage (100k plus) that may have had the IMS upgrade done. It will likely be a "10-footer" (meaning it looks pretty good from 10 feet away, but closer inspection reveals minor scratches/scuffs/dings). It may also need some issues (such as worn tires, a minor leak or two, a faulty audio system, etc.) tended to, especially on the low end of the range.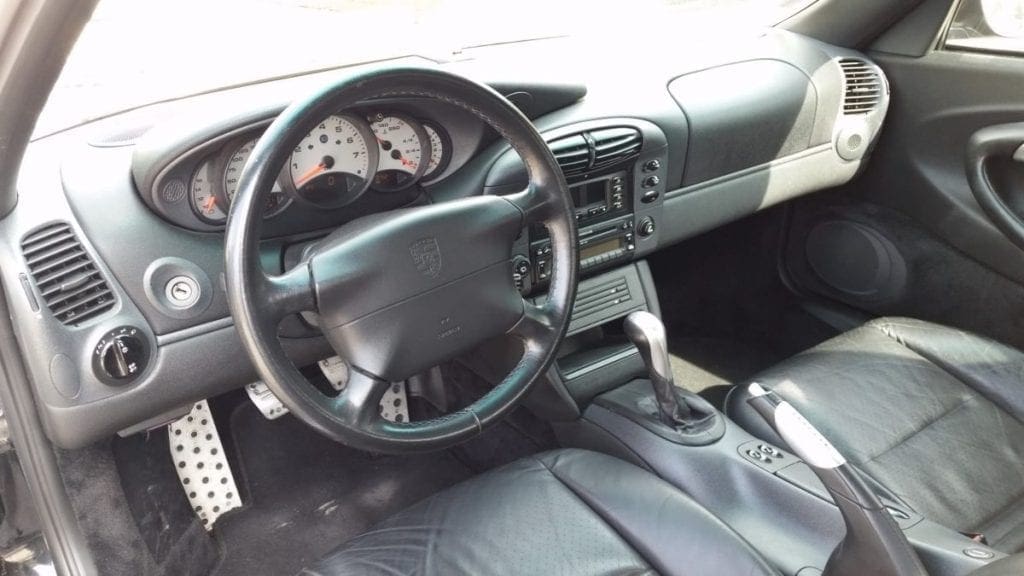 The Bottom Line
We think a well-maintained Porsche 996 provides far and away the best overall value of any high-end sports car on the market right now. Whether you're considering an early or later version of a 996, you'll be getting 90 percent of the enjoyment of a new, $100,000+ 911 for one quarter of the cost. The sound, the strong acceleration, the athletic handling and the visceral connection of driver to road are all there, as is the classic 911 profile.
Our advice? Buy one now before 996 prices really take off.
Photos courtesy of Porsche and the author