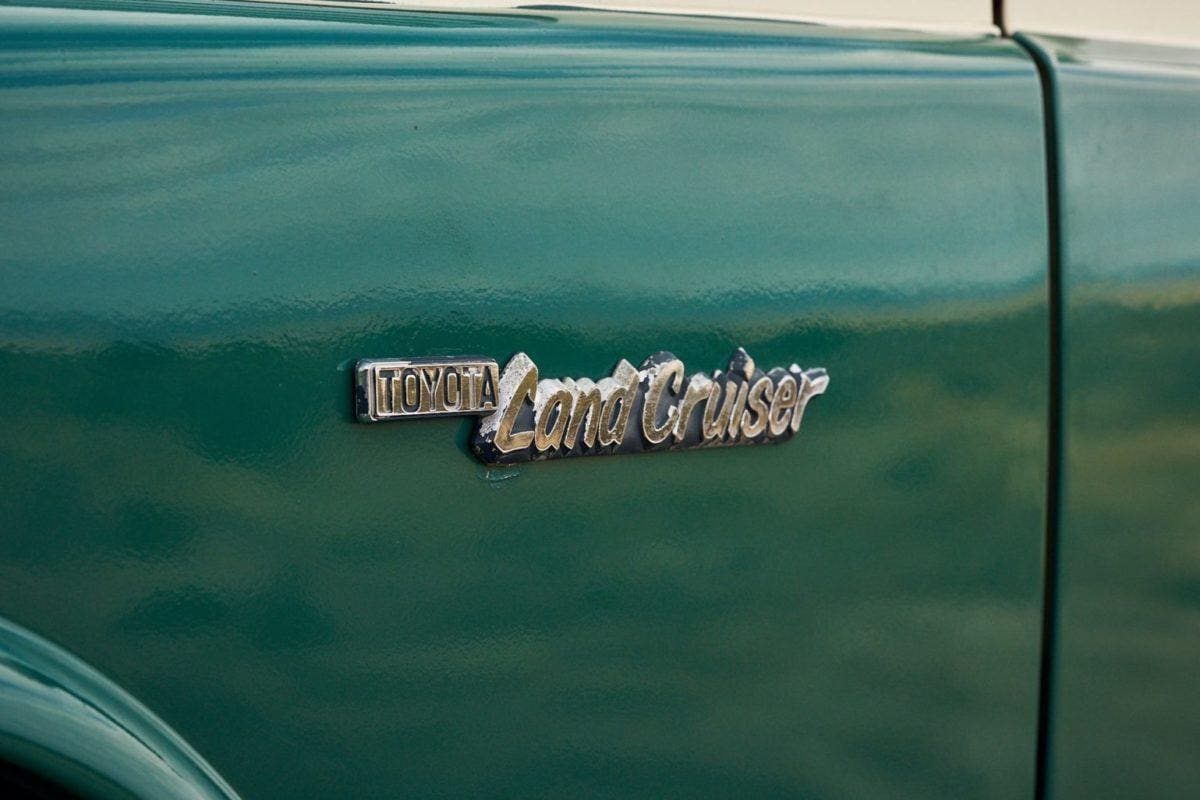 Introduction
Toyota has been building the Land Cruiser since the 1950s, and it has changed quite a bit over the decades. There are many different generations of the SUV, from the original FJ40, which was first imported into the United States in the mid-1960s, to the latest version of the 200 Series, a model that's still available at your local Toyota dealer.
With so many different versions to choose from, there's quite a bit to consider before you purchase a secondhand Land Cruiser.
Although every Land Cruiser features four-wheel drive with a low-range transfer case, and they all have a well-earned reputation for being among the toughest and most off-road capable SUVs ever made, each generation of Land Cruiser is very different than the other. Each has its own appeal and its own trouble spots buyers should be aware of.
To help you navigate this rocky terrain, we've created this Toyota Land Cruiser buyer's guide for three of the most popular and affordable versions of the iconic SUV. We'll cover the pros and cons of each as well as their current values.
---
Land Cruiser Generations

Early Models
Sales of the very first Land Cruiser, the FJ40, lasted into the 1980s, and today they remain very popular with collectors. Unfortunately, this has made them prohibitively expensive for many buyers. Plus, with their bare-bones design and limited interior space, they aren't for everybody.
The FJ40's design was fashioned after the original WWII Jeeps and Land Rovers — in fact, the "J" stands for Jeep while the "F" denotes the engine series. Models sold overseas powered by Toyota's B series diesel engine were designated BJ40.
FJ40s are quite small, with a short 90-inch wheelbase, and many have folding soft tops, which keep some — but not all — of the weather out. They also all have manual transmissions, and creature comforts like power windows weren't available, although you could get air conditioning.
In 1963, alongside the FJ40, Toyota introduced a long-wheelbase variant, the FJ45, which came in short- and long-bed pickup configurations — as well as, for the first time, a four-door, fixed-roof wagon. Four years later, that evolved into the long-lived FJ55, a slightly longer wagon (106.3-inch wheelbase), which was produced until 1980.
---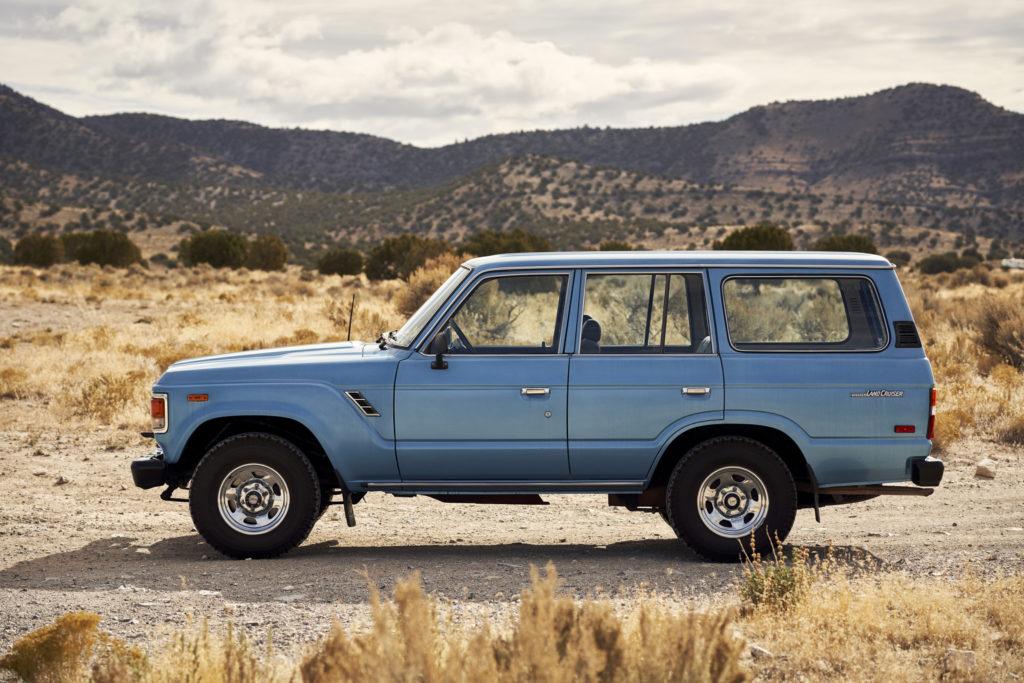 FJ60 & FJ62 (1980-1990)
The FJ55's successor arrived in 1980. Designed to be more civilized and broaden the Land Cruiser's appeal, the FJ60 was exclusively a closed four door design. It also had a longer 107.5-inch wheelbase, so it was more spacious and featured an overall design that's far more inline with modern SUVs. It's also a far more comfortable and family-friendly vehicle than the either the FJ40 or the FJ55, a big deal for anyone who wants to bring their kids along for the ride.
Its chassis and suspension were also modernized, but not so much as to compromise its off-road ability. The FJ60 still featured a ladder-type frame, solid axles front and rear with 3.70 gears, a leaf spring suspension, and a two-speed transfer case. They were also rear-wheel drive until four-wheel drive was engaged by the driver with a lever on the floor. Front disc brakes were standard, with drums in back.
Toyota's carbureted inline six-cylinder engine, which was significantly updated in 1975, was still under the hood of the FJ60. Known for its indestructibility, it was now called the 2F and displaced 4.2-liters. But churning out just 135 hp, it's not going to win any drag races.
Every FJ60 came with a four-speed manual transmission, and its lack of an overdrive ratio can be an issue on long drives as the low gearing keeps the engine revving quite high on the highway, increasing noise and fuel usage.
To fix this issue, some owners have swapped their FJ60's transmission to a Toyota H55 five-speed manual. The H55 not only has an overdrive, but its first gear is also lower, which improves acceleration and off-road crawling. Although the conversion is generally a bolt-in operation, it can be quite involved. Other modifications are quite common, including lifted suspensions, larger wheels and tires, and body armor like steel bumpers and roof racks. These changes can detract from a Land Cruiser's value, but not always.
Of course, rust is also a common problem with these trucks. Check the body for rot, but also the chassis, floors, and suspension. Issues with the FJ60's complicated emissions controls are also well documented, but there are known fixes for these and other ailments engineered over the years by the Land Cruiser community. Shops that specialize in Land Cruiser repair and restoration are common nationwide, and the Land Cruiser online community is vast and usually ready to help (check out IH8MUD and Expedition Portal). With proper maintenance, these trucks can run for more than 300,000 miles.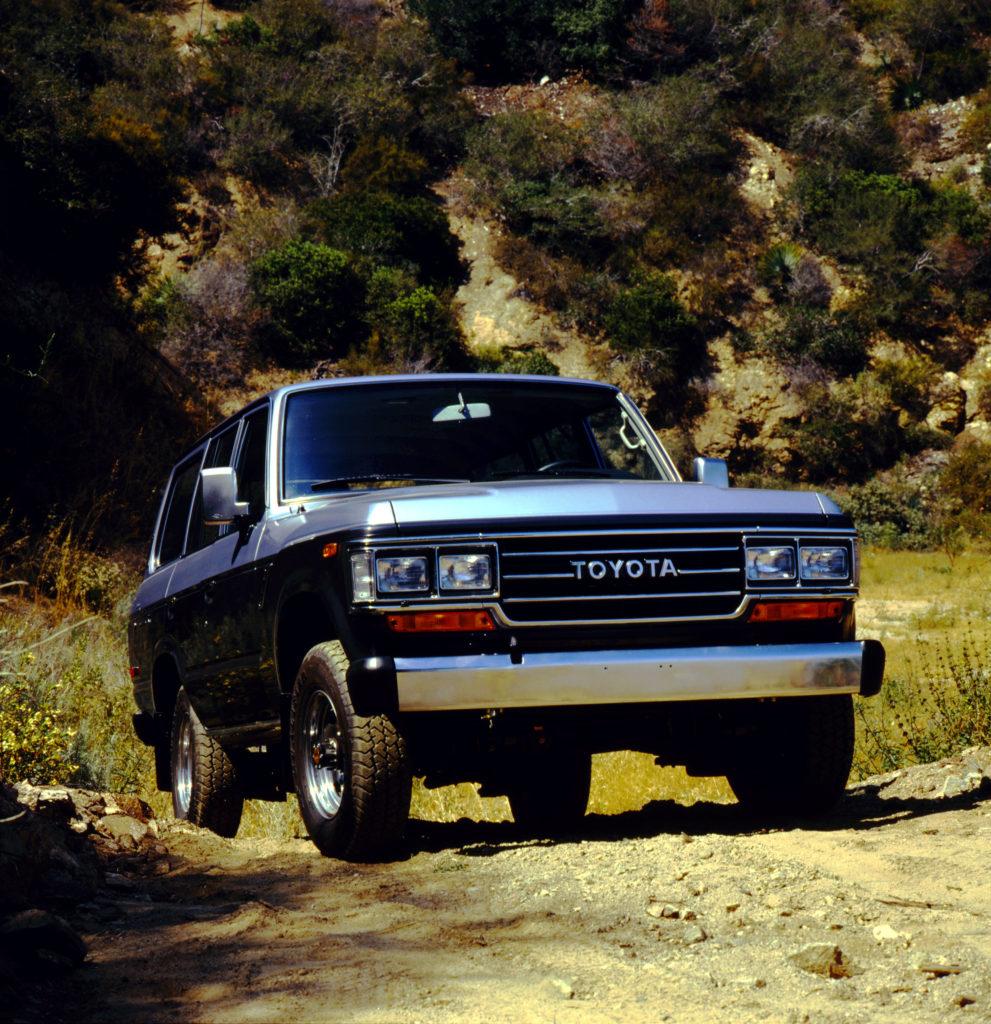 FJ60 sales lasted until 1988, when it was replaced by the more luxurious FJ62, which was sold until 1990. The FJ62 is basically a face-lifted FJ60 and easily identified by its four square headlights that replaced the FJ40's two round units. Mechanical upgrades included a fuel-injected version of Toyota's inline six-cylinder called the 3F, now smaller, displacing 4.0 liters, but more powerful, creating 155 hp.
The FJ62 is also the first Land Cruiser with power windows, power door locks, and an automatic transmission, which was the only transmission available on U.S. models. Differential gears were changed to 4.10, and the transfer case was modified: four-wheel drive was now activated with a button on the dashboard, with a lever to engage high and low range.
According to Hagerty's Valuation Tool, the current average price of an FJ60 is $15,700, while the absolute best examples can cost over $40,000. Although values have risen between 10 and 25 percent over the last three years depending on condition, FJ60s remain affordable compared to early FJ40's, which have an average value of $27,500.
---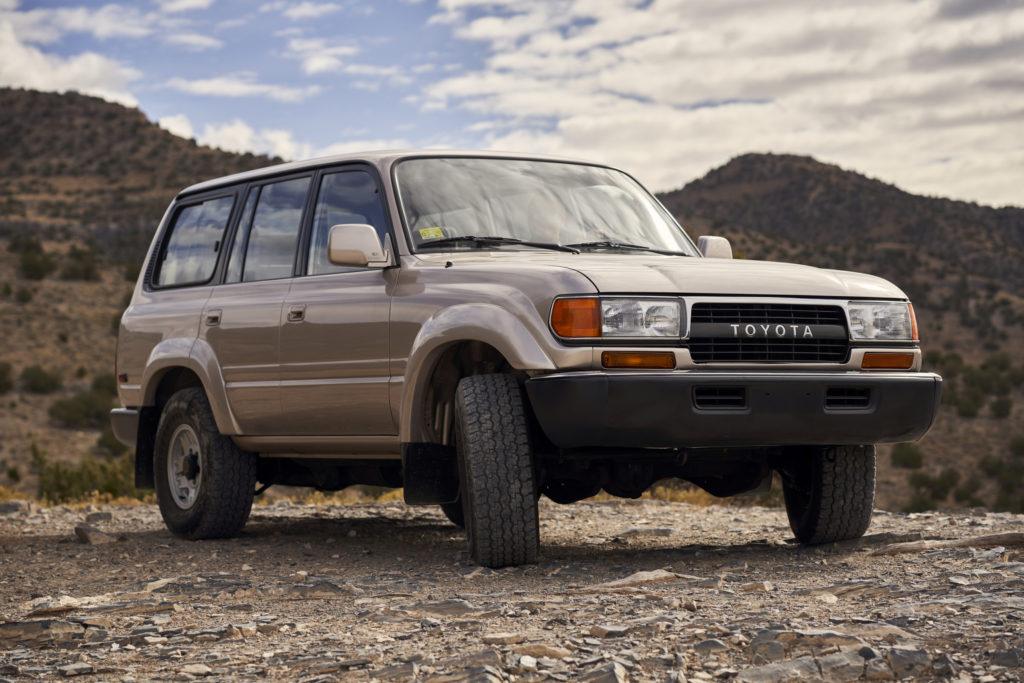 FJ80 & FJZ80 (1990-1997)
As America's SUV market matured, the Toyota Land Cruiser continued to get larger and more luxurious. In 1990 Toyota introduced the FJ80 version of the truck with all new more rounded styling, a longer 112-inch wheelbase, full-time four-wheel drive, and a smoother riding coil spring suspension. A ladder-type frame and solid front and rear axles remained, however, as did the FJ62's 3F engine and standard 4-speed automatic transmission. A manual gearbox wasn't offered. This was also the first Land Cruiser with a third row seat.
The additional size added heft, and the Land Cruiser now weighed about 4,600 pounds. To improve its acceleration, Toyota upgraded the SUV's engine in 1993, installing its 4.5-liter inline-six called the 1FZ. A much more modern engine than the 3F, it featured an aluminum cylinder head, two overhead camshafts, four valves per cylinder, and an increase from four to seven main bearings for additional durability. It was also considerably more powerful, with 215 hp.
These more powerful versions of the FJ80 are known as the FJZ80 generation, and their improved acceleration and drivability makes them more desirable — especially if you find a truck with the optional front and rear locking differentials, which substantially improve the SUV's off-road capability.
Experts recommend servicing the front axles of FJ80s and FJZ80s at 100,000 miles because they are constantly engaged by the SUV's full-time all-wheel drive system. When shopping for a truck, ask the seller for proof that this service has been completed. If it has not, calculate the cost into the selling price. As always with aging vehicles, rust can be a factor, so be sure to carefully inspect any example you're seriously considering.
Buyers should also be aware that the FJZ80 was also sold from 1996 to 1997 as the Lexus LX450. It's the same vehicle, just dressed up inside and out with Lexus design cues, premium leather, and softer suspension settings for a smoother ride.
Despite the Lexus' added luxuries, today's prices for Land Cruisers and LX450s are about the same, ranging from around $6,000 to about $30,000 for the absolute best examples, stock or modified.
---
UZJ100 (1998-2007)
When the 100 Series of the Land Cruiser hit in 1998, the purists squawked. It was larger again, and more luxurious, and its new independent front suspension didn't sit well with the hardcore off-road crowd. It did substantially improve the SUV's ride quality, steering precision, and overall handling, however, and its new V8 engine cranked up the horsepower — a needed change since the Land Cruiser now weighed over 5100 lbs.
Toyota made the Land Cruiser wider to improve interior space but also to enlarge its engine compartment. As a result, this was the first V8 powered Land Cruiser. Under the hood was the same 230 hp 4.7-liter double overhead cam V8 Toyota used in its Tundra pickup (known as the 2UZ-FE engine). As before, an automatic transmission and a full-time all-wheel drive system were standard. And as before, a Lexus version, the LX470, was also sold from 1998 to 2007.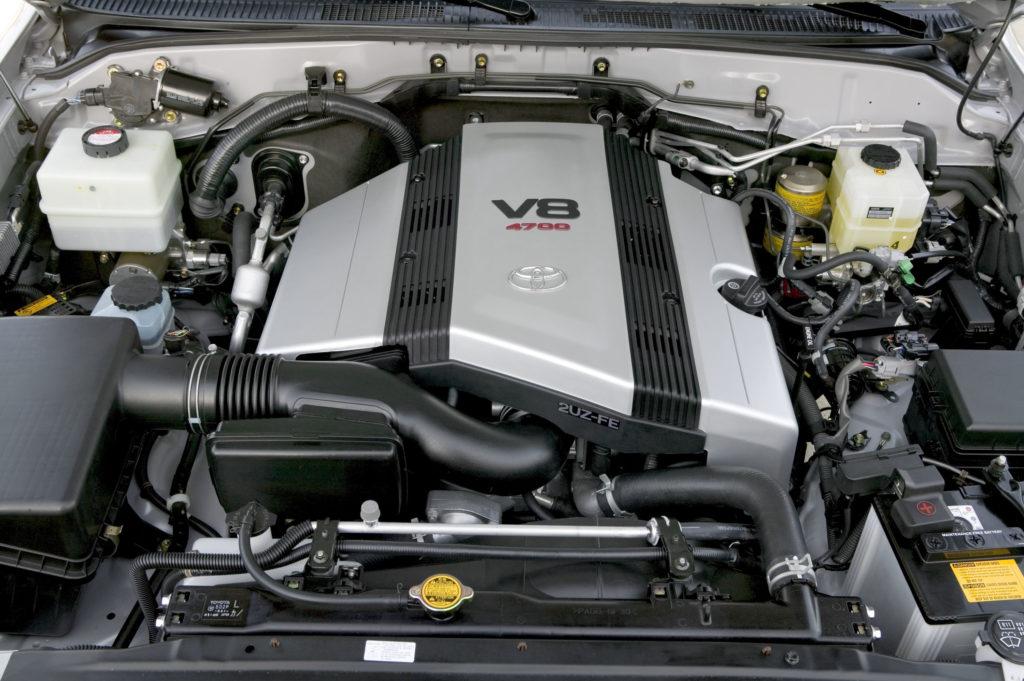 Although aftermarket companies like ARB sell locker kits for Land Cruisers of any vintage, many were disappointed that locking differentials were no longer a factory option. The Lexus version, however, got a hydraulic and height adjustable suspension system, which could raise the SUV to improve clearance for off-roading.
Over the years, the 100 Series' independent front suspension has proven to be quite capable off road, though broken front axles and cracking front wishbones are known issues under continuous extreme conditions. The differential center can also fail on early models with the 2-pinion front differential. To fix the issue, Toyota replaced the unit in 2000 with a more robust 4-pinion design.
UZJ100s were expensive when new, with prices starting about $45,000 for a Land Cruiser and over $55,000 for an LX470, and they're still pretty pricey. Values range from about $10,000 to about $30,000 depending on mileage, condition, and modifications. Low mileage, unmolested examples of any vintage car or SUV are always in demand, but a 100 Series with tasteful mods that increase its performance and visual appeal can demand a premium.
---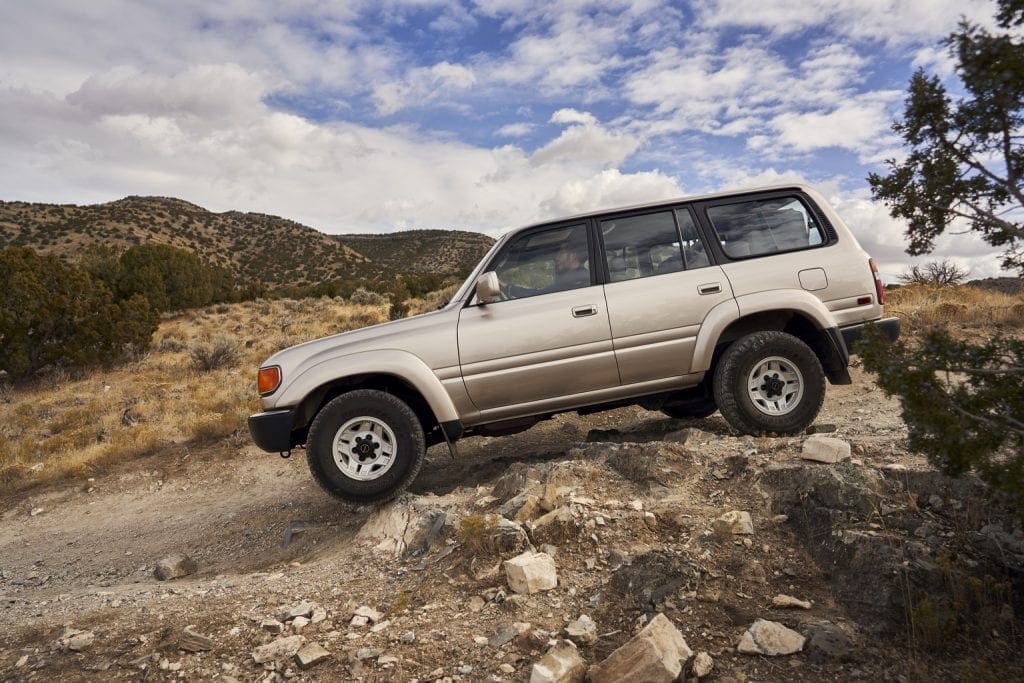 Which One to Buy
It's hard to resist the vintage look and feel of an FJ60. They just have an eternal cool factor. They'll never go out of style. But values have been rising rapidly, pricing many buyers out of the market. Buyers should also take into consideration the practicality of driving a vehicle of this vintage. Most become weekend pleasure machines driven only on sunny Sundays for a reason.
FJ80s offer more power and comfort, making them a far better value. They perform significantly better than an FJ60 on the road, with more modern amenities, and if you find one with the locking differentials it's easily the most capable of these three off road. Plus we're huge fans of their rounded muscular lines and exaggerated fender flares. It's a look that's not only aging well but that seems to get more handsome year after year.
Then again, if you plan to drive your Land Cruiser — and we mean really drive it, in all weather, to work, to Costco, to the coast — then the UZJ100 may be your best bet. They may not be as sexy or as retro cool as the other two, but they ride the smoothest, have most interior space, offer the most luxuries, and they're packing the most horsepower and torque from their V8 engine.
We'll take ours with a four-inch lift kit, 38-inch tires, steel bumpers, and a winch.
Photos courtesy Lexus and Toyota