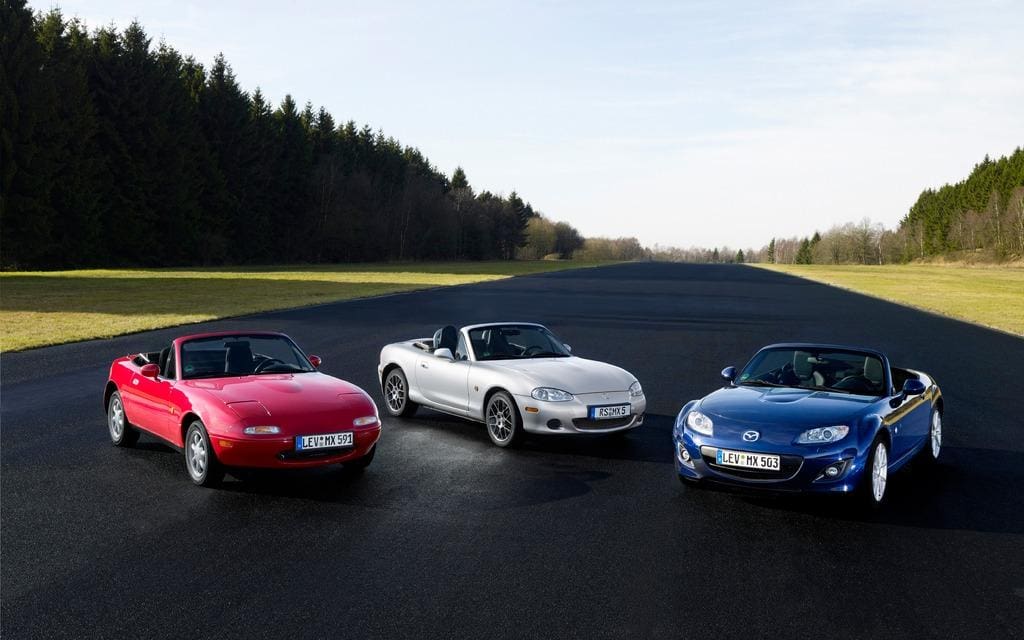 Introduction
It's pretty much common knowledge among car enthusiasts that if you really get a kick out of driving, it doesn't get much better than wheeling a Mazda Miata down a road that on a map resembles dropped spaghetti.
In fact, when you factor in its great reliability as well as its low acquisition and running costs, Mazda's sporty roadster is a strong candidate for "Bang for the Buck" champion of all time.
But even after you've decided you want to join Miata Nation, you've still got a tough choice to make. The model has been on the market for almost thirty years now, and for less than ten grand, you can pick up great examples from any of its first three generations (which Mazda engineers have dubbed, respectively, "NA," "NB," and "NC").
With pristine early examples, rare MazdaSpeed specimens, and even late-model retractable hardtops all within relatively easy reach, the hardest part of buying a used MX-5 may be figuring out exactly which one to pursue.
Not to worry. We've identified the pros and cons of each generation to make it easy to find the Miata that's perfect just for you.
Miata Generations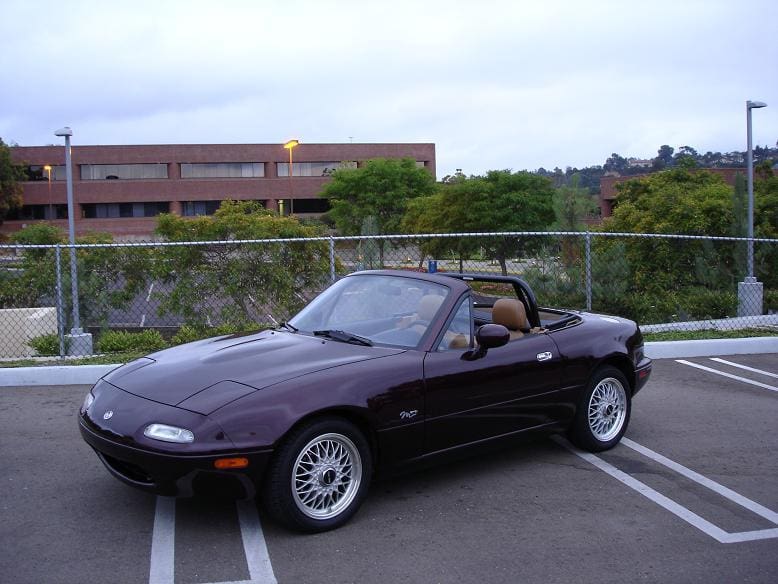 NA (1990-1997)
This first version of Mazda's well-sorted and popular roadster is the most basic in the best of ways. Weighing in at just about 2,200 pounds, the "NA" is the lightest of these first three generations, while its diminutive dimensions, sharp steering, athletic handling, and super slick-shifting five-speed stick contribute greatly to its eager-to-please personality.
In earliest versions of the NA, a 1.6-liter DOHC inline four makes just 116 horsepower but delivers it in a smooth and spirited fashion. A five-speed manual is standard, with a four-speed automatic optional (and far less desirable). With so little mass to propel, performance is peppy enough. Still, an early Miata is definitely more about carving up curvy roads than ripping away from stoplights.
Some argue that the NA is the purest expression of Miata. It's possible to find one with hand-cranked windows, non-assisted steering, and non-ABS brakes. That said, power steering and windows are also available in the NA, as are alloy wheels and air conditioning.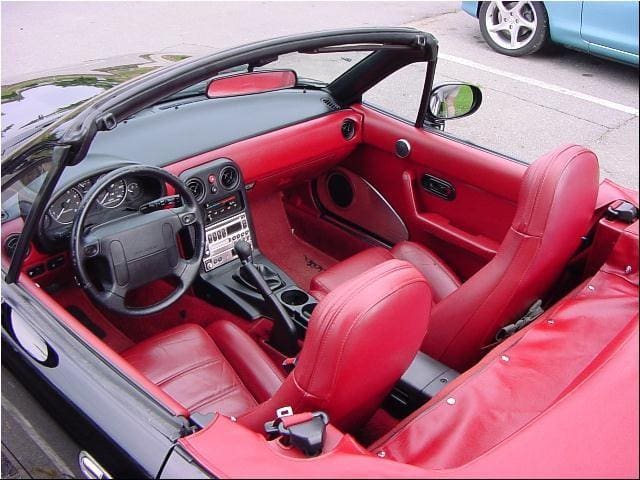 A number of special versions throughout the NA run are worth noting, such as the 1993 Limited Edition with its black exterior and red leather interior, as well as various "M" editions that followed with similarly thematic color schemes and fancier interiors. There's also a track-focused R package, featuring a stiffer suspension with Bilstein shocks as well as a Torsen limited-slip differential (LSD).
But the most significant changes for the NA take place with the 1994 model year, when it was given a slightly larger and more powerful 1.8-liter, 128 hp engine, plus a stiffened structure, a stouter rear differential, and the option of the Torsen LSD for non-R packaged trims (replacing a viscous LSD that was previously available).
Though Miata purists tend to covet all-original first-year NA examples, we'd recommend that more practical-minded NA enthusiasts focus their searches on the final four years of the run (1994-1997) to take advantage of these later improvements.
NB (1999-2005)
The second-generation MX-5, or "NB," debuted for 1999 (skipping the 1998 model year), with a redesigned and more curvaceous body, somewhat like a ¾ scale Jaguar XKE. Inside, the dash and seats are more substantial, and overall materials quality is better than before. Although the dimensions remain virtually identical to the NA, this Miata gains about 200 pounds. But it also gains some muscle, with about a 10% bump in the 1.8-liter engine's output (to around 140 hp), providing stronger performance. As before, a five-speed manual is the preferable and standard gearbox, with a four-speed slushbox still available as an option.
Now boasting swifter acceleration — around 8 seconds flat to 60 mph versus around 9 seconds previously — the second-gen Miata retains the model's renown, light-on-its-tires nature. Other perks include a glass rear window (versus the former's scratch- and fade-prone plastic), slightly more trunk capacity, and, thanks to a more rigid structure, greater composure over rough pavement.
The tradition of special editions continues with the NB. Highlights include the 1999 Anniversary edition, which marks the debut of a six-speed manual, and, for the 2000 model year, the SE, which features lovely dark red paint complimented by tan leather inside — a terrific combo that makes it, to our eyes, one of the sharpest MX-5s ever to roll off the assembly line.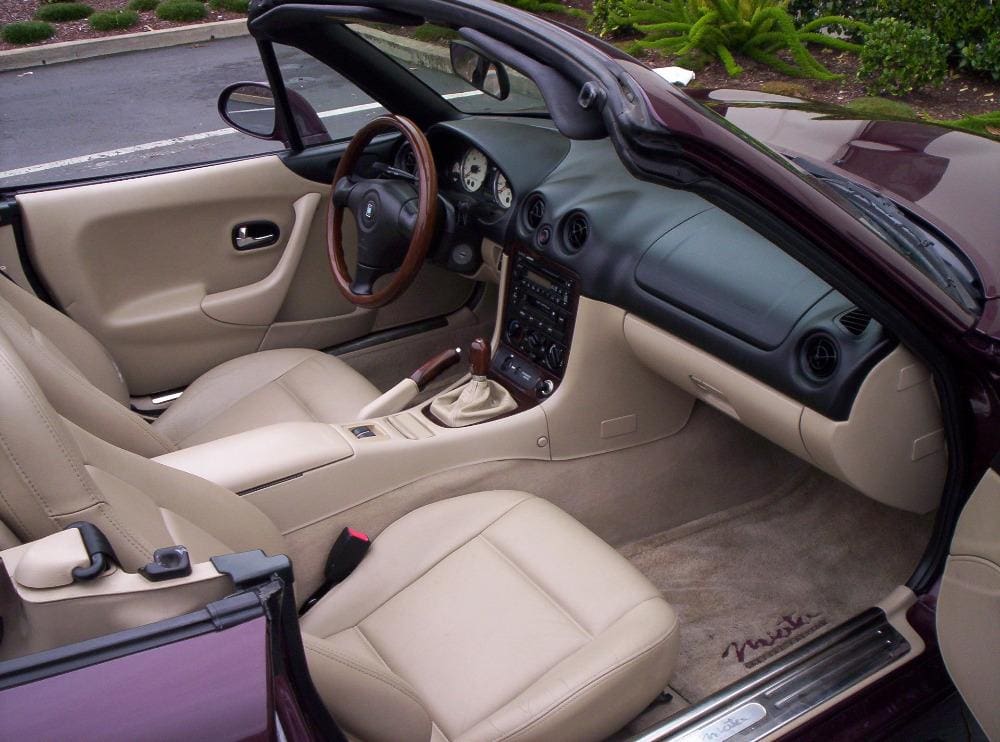 But the star of the NB's seven-year run is surely the MazdaSpeed variant, which packs a turbocharged version of the 1.8 mill under the hood, offering 178 peak horsepower along with a fatter powerband. It's enough thrust to launch this Miata to 60 mph in about 6.7 seconds, over a second quicker than its naturally aspirated brethren. Handling is also sharpened up via larger 17-inch wheels with lower-profile tires and a lowered, firmer suspension.
The relative rarity of the MazdaSpeed, which was offered (in the US) only for the 2004 and 2005 model years, means that it tends to command a premium, with outstanding examples fetching as much as low- to mid- teens. So if that extra power isn't important to you, the good news is that any of the other NB variants is likely to provide abundant fun for about half the price.
NC (2006-2015)
With the third-generation ("NC"), some feel that the Miata's styling took a step backwards, trading the NB's alluring curves for a body that resembles a super-sized Tic Tac in profile, with headlights and the grille opening assuming the same bland shape. Oddly exaggerated wheel arches seemingly serve to counteract the otherwise sleepy styling. All that said, it's still basically attractive and in certain color combinations (dark red on tan, for instance) borders on handsome.
In the "pros" column, the NC is still light in weight (under 2,500 pounds) and definitely still a hoot to drive. Across the whole lineup, it offers fairly strong performance. A MazdaSpeed version wasn't offered, but it wasn't a crying shame, as the NC boasts a 2.0-liter engine that, without the benefit of forced induction, cranks out 170 hp.
At around 7.5 seconds, an early NC's sprint to 60 is quicker than all previous Miatas, save the NB MazdaSpeed. The NC also has more cog-swapping options, including five- and six-speed manual transmissions (depending on trim level), as well as a new six-speed automatic.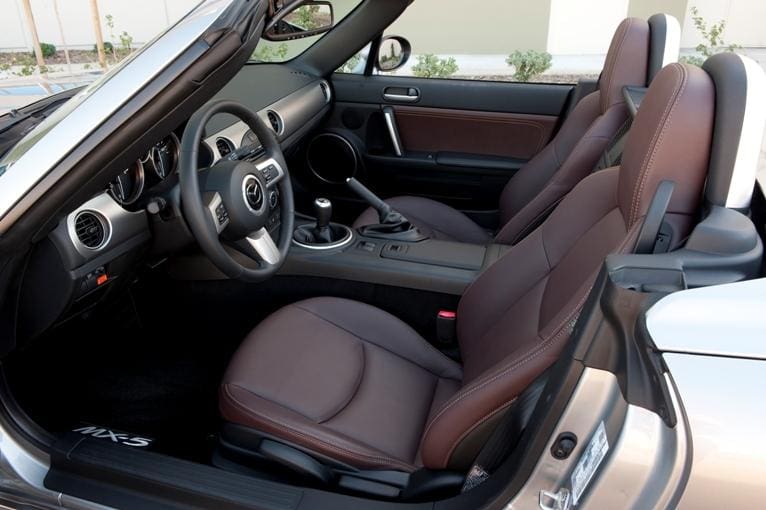 For this generation, trim levels range from the no-frills Club Spec and SV to the leather-lined Grand Touring with its heated seats and Bose audio system. More serious enthusiasts should consider an NC with the "Suspension" package, which equips the car with Bilstein shocks, firmer suspension calibrations, and a limited-slip differential. For 2007, a power retractable hardtop ("PRHT") version debuted, providing the added comfort and security of a closed coupe with just a 70-pound increase in the car's weight.
A 2009 mid-cycle refresh perked up the NC's looks with notably more aggressive front-end styling, while engine upgrades (new pistons, connecting rods, and crankshaft) brought more responsive performance. Though actual output was essentially unchanged, the engine's improvements translate into an even more eager personality — an impression that's backed up by a heartier engine note and a quicker (6.9-second) sprint to 60 mph. The suspension also received tweaks that year for sharper response and less understeer at the limit.
While any NC is a blast to drive, these improvements make 2009 and later examples worth seeking out.
The Best Miata for You
It's hard to go wrong with any Miata, as long as you pick up a well-loved example. All provide a spirited, athletic, and communicative drive. As far as which is the right Miata for you, that naturally depends on where your priorities lie.
The NA still has very strong appeal despite the improvements made in successive generations. For some, it's due to nostalgia ("I bought one new back in '95 and always regretted selling it"). For others, it's the "cool factor" of being the first iteration of a now-iconic sports car. Although most any Miata would make a fine track-day choice, if you go the NA route, we strongly suggest going with a 1994 and newer as the changes implemented that year (outlined above) make for a more capable and bullet-proof racer.
The middle child of these three, the NB, strikes a terrific balance between performance and value. Indeed, despite its sharper responses, higher-quality interior, and glass rear window, a nice NB typically costs little (if any) more than an NA of equivalent condition and mileage. Available all the way to the 2005 model year, an NB example is also less likely to be suffering from age-related issues, like crumbling rubber bits or faded and brittle plastic. Yet it still retains the simple, honest feel of the original car.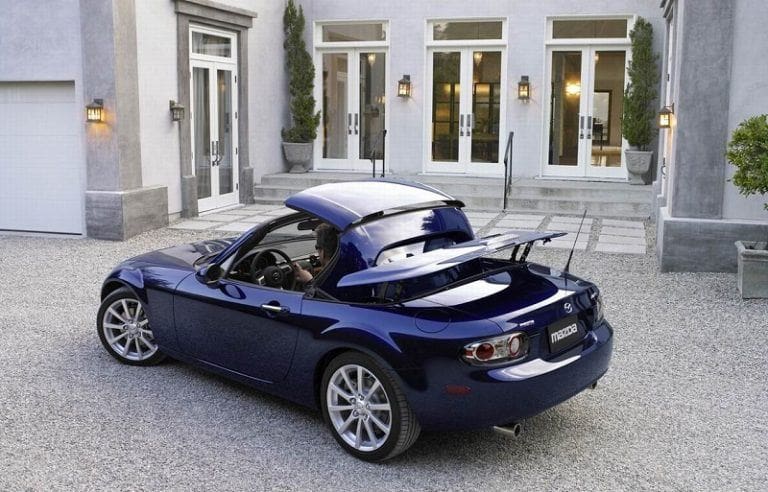 And if you like to have your cake and eat it, too, the NC, especially in loaded-up Grand Touring trim, is a great choice. You get maximum Miata comfort and safety (heated seats, available retractable hardtop, stability control) without any penalty in the fun department. If you plan to use your new Miata as a daily driver rather than just a weekend fun car, the NC's extra creature comforts — especially, for folks facing inclement weather, the PRHT — make it the obvious pick.
Whichever Miata you choose, you can rest assured that you're buying one of the best roadsters ever made. Anyone who loves driving should own one, at least once.
Photos courtesy of Mazda and Creative Commons