You can't help it. You're captivated by the sleek styling, the open top, the storied heritage, the rumbling V8 that shoves you back in the seat. Let's face it. You've got Corvette Fever.
You've also got a budget ranging from $10,000 to $20,000 — a relatively modest outlay that nevertheless gains you access to three different generations of Chevrolet's iconic sports car, spanning 30+ years and a wide variety of styling, engineering, and performance options.
Here we give you the lowdown on these: the C4 (Corvette, 4th generation), C5, and C6. With values that rise in lockstep with their successive iterations, each generation has its own unique set of pros and cons. Picking the right one can be a difficult choice.
But not to worry. No matter how badly you've got the fever, we're here to help you find the cure.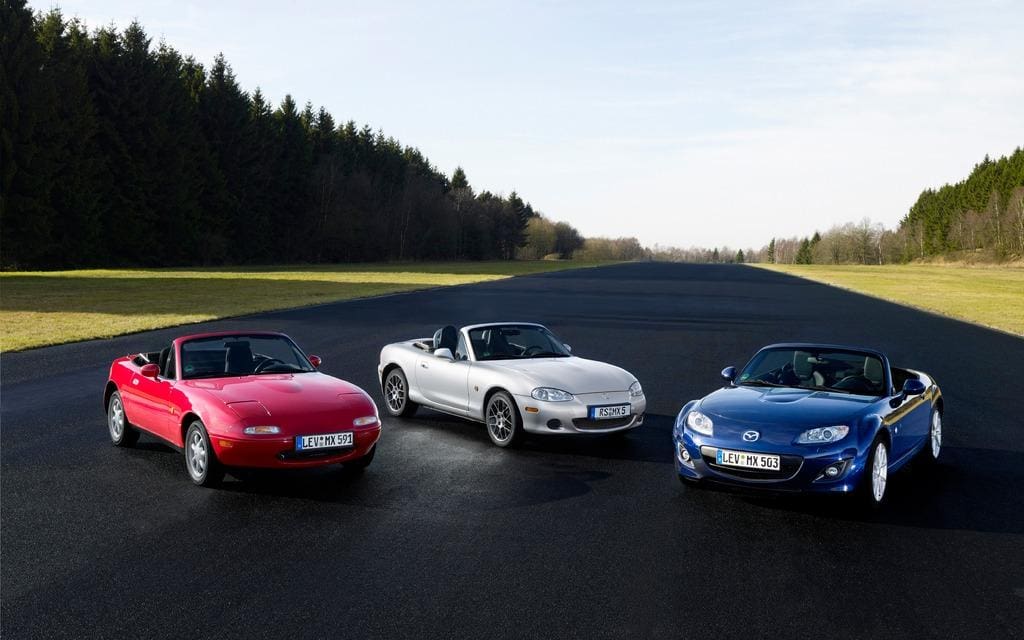 It's pretty much common knowledge among car enthusiasts that if you really get a kick out of driving, it doesn't get much better than wheeling a Mazda Miata down a road that on a map resembles dropped spaghetti. In fact, when you factor in its great reliability as well as its low acquisition and running costs, Mazda's sporty roadster is a strong candidate for "Bang for the Buck" champion of all time.
But even after you've decided you want to join Miata Nation, you've still got a tough choice to make. The model has been on the market for almost thirty years now, and for less than ten grand, you can pick up great examples from any of its first three generations (which Mazda engineers have dubbed, respectively, "NA," "NB," and "NC").
With pristine early examples, rare MazdaSpeed specimens, and even late-model retractable hardtops all within relatively easy reach, the hardest part of buying a used MX-5 may be figuring out exactly which one to pursue.
Not to worry. Below we've identified the pros and cons of each to make it easy to find the Miata that's perfect just for you.
At Klipnik, we read lots of used car listings, and it's not because they are so beautifully crafted. Usually the opposite is true. Most are hastily thrown together and lack key details.
Not only is this frustrating for buyers, who may drive halfway across town to discover that "needs a little TLC" means there's a goat living in the backseat. For sellers, it's worse because a lackluster ad can easily diminish the sale price of the vehicle.
Fortunately, it's not too hard to put a decent listing together. Just make sure to avoid these common offenses, which can tank your sale.