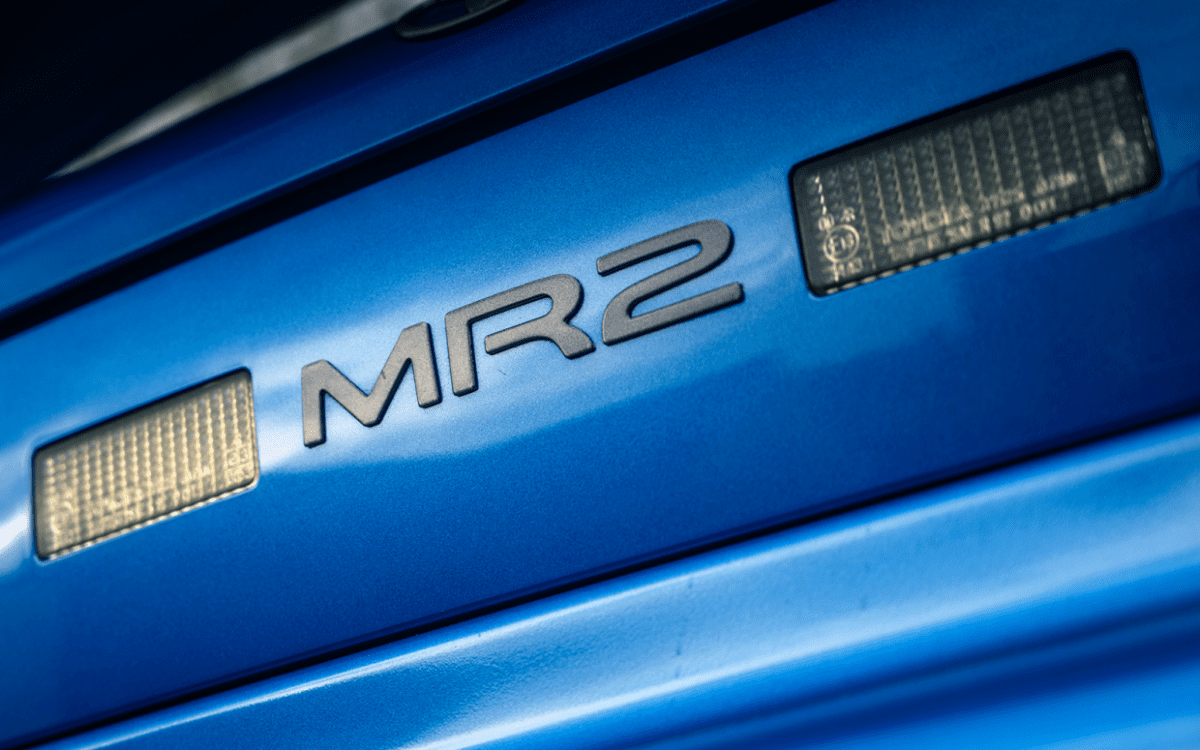 Introduction
In addition to big hair, synthesizer music, and acid-washed jeans, the 1980s introduced a glorious return to performance for automakers. After the dark days of the "Malaise Era" (roughly 1975 -1982) wherein increasingly tougher emissions standards and the solutions to meet them sucked the life out of engines, the Yuppie Decade brought welcome advancements in engine technologies that allowed cars to once again provide thrilling performance. This rebirth of performance wasn't just limited to straight-line gusto either, as advances in chassis development and tire technology also meant greater handling and braking abilities as well.
As a result, the "gr80ties" ushered in lots of new, fun-to-drive models, such as Toyota's MR2, which debuted for 1985. It was, along with Honda's CRX Si, a great example of a car not needing a lot of power to be a blast to drive. Indeed, the cover of Automobile Magazine's debut issue (April 1986) featured the MR2 and a Ferrari 308, driving home the point of how the little MR2 provided plenty of exotic mid-engine sports car thrills for a price most anyone could afford. Low maintenance costs and Toyota's reputation for quality and longevity didn't hurt its appeal either.
Fittingly enough, the second generation of the MR2 brought exotic styling that was seemingly inspired by that Ferrari, while the third and last generation switched gears as the MR2 became a soft-top roadster that placed Mazda's ridiculously popular Miata in the crosshairs of its Toyota logo.
Even though it came in these three distinct flavors, any version of the MR2 is a tasty treat that is virtually guaranteed to rev up those who get a kick out of driving a responsive and engaging sports car.
In this buyer's guide, we'll teach you everything you need to know to find the perfect "Mister Two" for you.
---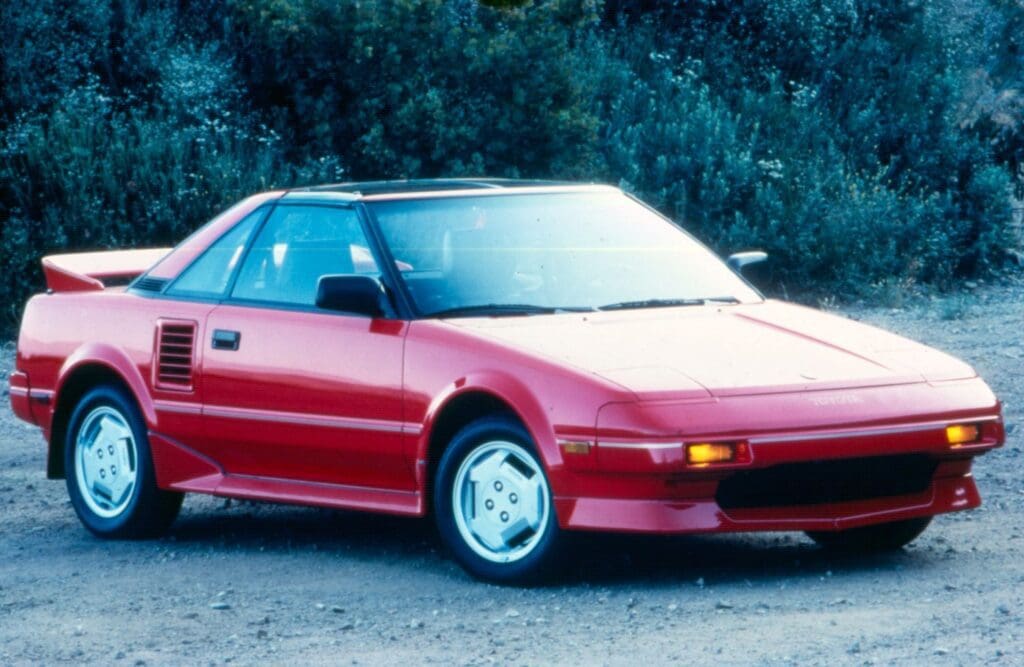 First Generation (1985-1989)
The first-generation MR2 debuted in 1985 to high acclaim, offering a blend of lightweight agility and mid-engine design at an affordable starting price.
A 1.6-liter, 4-cylinder engine provided spirited performance, with the Supercharged version later offering near-V8 levels of acceleration.
The MR2 outperformed main competitors like the Pontiac Fiero and Fiat X1/9 in handling, while also benefiting from Toyota's reputation for reliability.
As mentioned above, the MR2 debuted for the 1985 model year to massive acclaim. Light, agile, communicative, and relatively quick, Toyota's mid-engine sports car was a smash success, with dealers getting over list price for them all day long. The base version listed for just around $11,000, but that meant plain steel wheels, manual windows, no radio, and no A/C. Optioned out with alloys, power windows, A/C, and a stereo with cassette player, an '85 MR2 listed for nearly $14k.
The MR2 got its name from its design: "Midship, Runabout, 2-seater." The wedge shape design with its flip-up headlights was '80s cool, and a functional air intake on the right-hand side lent performance cred to Toyota's street legal go-kart. Inside the MR,2 the close-coupled interior gave the feel of a jet fighter cockpit with its driver-centric layout. Large primary gauges (speedo and tach) were complimented by smaller oil pressure, coolant temperature, and voltmeter gauges, while a thick-rimmed steering wheel and stubby, short-throw shifter sprouting out of a high center console were perfect allies in apex-strafing exercises. The sport seats' lateral bolsters were plump on the seatback yet somewhat flat on the seat bottom. But fortunately the high center console and door panels were right there by your sides to hold you in place.
Mounted amidships was a 1.6-liter, 4-cylinder firecracker. With its then-exotic double overhead cam, four-valve per cylinder architecture, this marvel smoothly and eagerly revved to its 7,500 rpm redline. Although it pumped out just 112-115 hp, those were feisty horses — enough for the 2,400-pound MR2 to sprint to 60 mph in around 8.5 seconds with a five-speed manual gearbox. An automatic transmission was optional, though we wonder why anyone would get it when the MR2's precise stick was considered the best-shifting manual of its time.
This car, however, like Mazda's Miata that would debut five years later, was more about swiftly carving up a twisty road while keeping the engine on the boil than it was about challenging Camaro Z28s and Mustang GTs at a stoplight. The first-gen MR2 had thoroughly usable performance, allowing you to take the engine to redline without tempting the ticket gods with too easily gotten velocity.
Three years later, the MR2 would get a shot in the arm — or rather, the intake system — when the MR2 Supercharged (pictured above) debuted. Although rated at just 145 hp and 140 lb-ft of torque, the MR2 SC was a seriously quick car that could hit 60 in 6.5 seconds and run the quarter in 15 flat, times that were very close to V8 Mustangs and Camaros of the time. If you Googled the expression "punching above its weight," we wouldn't be surprised if it said, "See Toyota MR2 SC."
These first-gen MR2s were light cars. Naturally aspirated versions weighed in at only around 2,400 pounds, while SC versions were a modest 200 lbs heavier. The only competition the MR2 had was the Pontiac Fiero and the Fiat X1/9 (later marketed as the Bertone X1/9). The Fiero couldn't approach the MR2's handling chops until its final year (1988) when its suspension was redesigned, and the X1/9, though it handled better than the Fiero, was a slug compared to the sprightly MR2. And of course, the MR2 was built by Toyota, so it was blessed with low maintenance costs and great longevity as well.
Model Year Changes
1986: The bumpers are color-matched to the body, and an aero package becomes optional (complete with side skirts), as does leather upholstery. A government-mandated third brake light is added. Under the hood, the powertrain receives a larger flywheel and clutch, and the rear anti-roll bar is deleted.
1987: A T-roof option debuts. The engine is beefed up (with larger connecting rods), and output increases to 115 hp. A host of other mechanical changes take place, including a relocated air filter and EGR valve, revised transmission internals, larger brake rotors, and a revised rear suspension. Outside, there are new taillights as well as a revised front bumper/lower lip. Inside, the center console/armrest is revised (handbrake relocated to the right side), the door panels are updated, and a sportier three-spoke steering wheel replaces the former two-spoke unit.
1988: The Supercharged version debuts, and side skirts become standard for all MR2s.
1989: The Supercharged version gains a rear anti-roll bar, and the color-keyed mirrors and door handles of that car become standard on all MR2s. The rear brake light becomes a slimmer, LED unit. Side mirrors become slightly more aerodynamic.
---
Second Generation (1991-1995)
The second-generation MR2, introduced in 1991, featured a sleek, Ferrari-like design along with increased weight, power, and luxury features.
Base models had a 2.2-liter engine with 130 hp, while the Turbo version offered 200 hp, sprinting to 60 mph in about 6 seconds.
Discontinued in the U.S. after 1995 due to currency exchange rates, the model continued in other markets until 1999.
Looking for all the world like a smaller version of a Ferrari 308/328/348, the second-generation MR2 debuted for 1991 (after skipping a model year in the US). In addition to gaining new, sexy styling, it also gained weight, power, and luxury features.
The curvaceous new sheetmetal clothed an MR2 that was about 300 to 400 pounds heavier and about nine inches longer. As such, there was more room inside, and the cabin (pictured below) boasted smoother, more rounded styling as well as more soft-touch materials on the doors and dash, lending a more upscale feel to the cockpit.
Under the engine hatch, the base MR2 had more power with its 2.2-liter, DOHC, 16-valve four spinning out a respectable 130 hp. Acceleration was respectable, with 0-60 taking 8.4 seconds and the quarter mile logging in at 16.1 seconds.
The top dog MR2 for this generation was the Turbo, which was Toyota's form of forced induction for this new generation. Output was a healthy 200 hp and 200 lb/ft of torque. A 1991 MR2 Turbo was seriously quick as it could sprint to 60 in around 6.0 seconds and rip down the quarter in 14.8. Of course, agile handling was once again part of the MR2's impressive performance resume, with its quick steering and flat composure making for grins on curvy roads. Unlike the base MR2, the Turbo did not offer an automatic transmission as an option.
Unfortunately, the second-gen MR2 was dropped from the U.S. market after the 1995 model year due to an increasingly unfavorable dollar-to-yen ratio that pushed the price of Japanese cars ever higher. However, it was still produced for other markets through model year 1999.
Model Year Changes
1993: Larger (15-inch) wheels become standard, and the suspension is revised to minimize the chance of lift-throttle oversteer, making the car feel less razor sharp to expert drivers but also less prone to oversteer for non-expert drivers. Additionally, the front lip spoiler is enlarged, the transmission synchronizers are upgraded, and the shifter is shortened. On Turbo models, the T-top becomes standard, the brakes grow in size, and a viscous limited-slip differential (LSD) becomes available.
1994: The output of the base engine goes up to 135 hp, a passenger airbag is added, the rear strut towers are reinforced, and both the anti-lock brake (ABS) and electronic power steering systems are revised for better performance and feel. Visually, the rear spoiler goes from a three-piece to one-piece design, the lower front spoiler and side skirts are color-matched to the body, and the rear taillights are revised, with the panel between them also getting color-matched.
1995: After sending fewer than 300 second-gen MR2s to the US for the 1995 model year, Toyota's mid-engine sports car is dropped from the U.S market.
---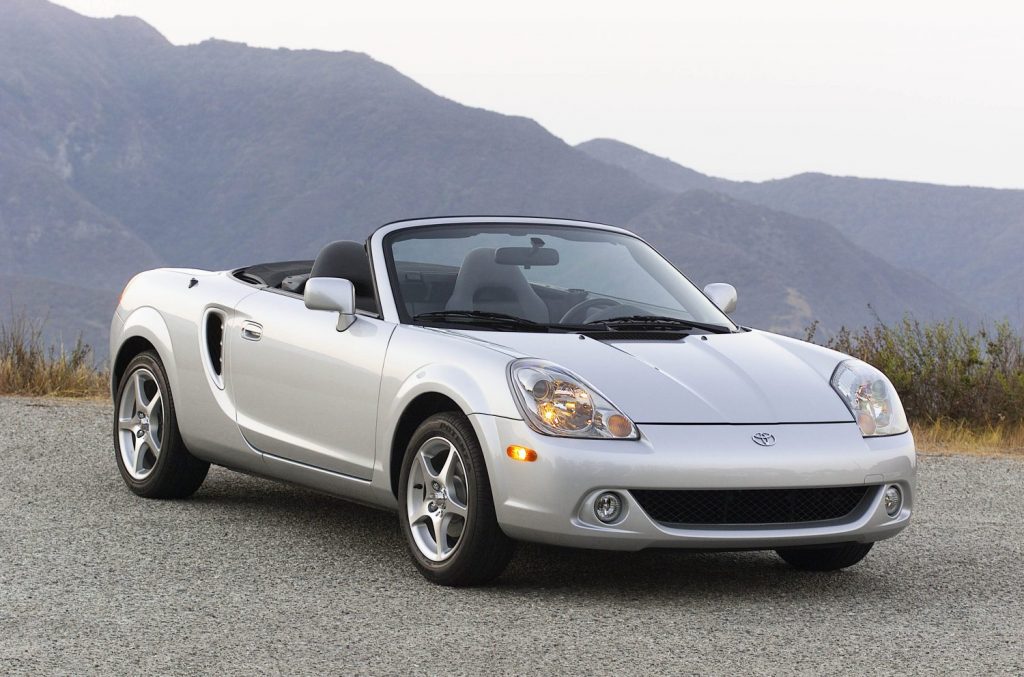 Third Generation (2000-2007)
The third-generation MR2 shifted to a roadster design to compete with the Mazda Miata, featuring controversial styling but maintaining its sporty DNA.
A 1.8-liter engine produced 138 hp, propelling the lightweight 2,200-pound MR2 Spyder to 60 mph in 6.8 seconds with a manual transmission; no turbo or supercharged options were available.
Beginning in 2002, an automated-clutch, manually-shiftable transmission was offered, though it was slower in acceleration compared to the traditional manual.
And now for something completely different. For its third generation, the MR2 took on the massively popular Mazda Miata. As such, it became a traditional roadster, complete with a soft convertible top. The styling was… controversial. With its bug-eye headlights, blocky body, and oversized taillights, this MR2 was not nearly as handsome as earlier generations. But its personality more than made up for its looks.
In a sense, the third-gen MR2 was something of a poor man's Porsche Boxster, with its mid-engined architecture and roadster body style. Of course, the MR2 "Spyder" would be (and is) a lot lighter on the wallet than a Boxster as far as ownership costs go. Coincidentally, Honda's S2000 debuted this same year, although it was considerably more powerful and more expensive, so it wasn't a direct competitor either.
Powered by a 1.8-liter, DOHC, 16-valve four making a then-respectable 138 hp, the MR2 Spyder tipped the scales at just 2,200 pounds, making it even lighter than the Miata. Unlike before, there was no up-level, supercharged, or turbocharged engine option. Running through the five-speed manual, that 1.8 was enough to send the MR2 Spyder to 60 mph in 6.8 seconds. For the first two years, all MR2 Spyders had manual transmissions. Then, for 2002, an automatic became optional.
This was not a conventional automatic but rather an automated-clutch, manually-shiftable transmission (called "SMT" for sequential manual transmission), similar to what Ferrari and a few other high-end manufacturers offered around that time. Although it worked well, the SMT wasn't programmed to be too aggressive in the interest of reliability and longevity. As a result, the sprint to 60 mph took about two seconds longer than the traditional manual gearbox. The Spyder's handling was expectedly athletic, giving this MR2, as with the prior ones, a huge FTD (fun to drive) factor.
Model Year Changes
2002: An automatic transmission becomes an option for the third-gen MR2 in the form of an automated-clutch, manually shiftable transmission (dubbed SMT).
2003: The third-gen MR2 gets a mild restyling of the front and rear ends, as well as the interior (seats and gauges). The SMT becomes a six-speed unit with quicker shifting, and the wheels grow from 15 to 16 inches. A new underbody brace and retuned springs and shocks improve the ride and handling dynamics.
2004: Ride height increases by one inch, and a Torsen limited-slip differential (LSD) becomes available on the manual transmission Spyders. Additionally, the car's structure is beefed up for increased crash protection.
2005: A six-disc CD changer is added as standard equipment for the MR2 Spyder in its final year of production for the US market.
---



What's the Best Year for the MR2?
First-gen MR2s are lauded for their '80s nostalgia and go-kart-like feel but are increasingly rare, especially in low-mileage or Supercharged versions.
Second-gen models offer sporty, curvaceous styling and more power, though they may have been modified by previous owners in the tuner community.
Third-gen MR2 Spyders provide a classic roadster experience combined with mid-engine architecture and are generally easier to find in good condition.
Given that there's not a bad one in the bunch and any of the MR2's generations will provide plenty of cheap thrills, it essentially comes down to what flavor of fun you prefer.
It's hard to beat the light, go-kart-like feel and wedge-inspired '80s styling of a first-gen MR2. Finding a nice, low-mileage Supercharged version would be tops. But as these were last produced over 30 years ago, finding a good one with low miles (N/A or Supercharged) can be a challenge.
The sexy styling and improved performance of the second-gen MR2 is tempting as well. Even the non-turbo version provides a ton of fun. However, as with the first-gen cars, these have been popular among the "tuner" set, so try to avoid examples that come with questionable modifications. These can include "body kits" that look like melted plastic, goofy knock-kneed (excessively cambered) stances, and ridiculously oversized wheels and exhausts.
For those who like the ideal of an old-school roadster combined with the driving dynamics of mid-engine architecture, it's tough to top the third-gen MR2 Spyder. As with the others, it also boasts Toyota's reputation for low running costs and impressive reliability and longevity. Given that the third-gen MR2 is the newest version and was produced from 2000 through 2005, it should be much easier to find one of these in mint condition for a reasonable price than it is for earlier generations.
All that said, even if you put a set of keys for each generation in a hat, pulled one out, and had that car take up residence in your driveway, you wouldn't be disappointed.
Finally, no matter which MR2 generation you choose, we recommend buying the finest example you can afford. That means one with a solid, accident-free body, lower mileage, a comprehensive maintenance history, and a clear evidence of caring prior owners (e.g.  keeping the car garaged when not in use). Paying for a thorough pre-purchase inspection by a well-regarded mechanic is also money well spent for the added peace of mind that they may catch something you might miss. It also will reveal any needs the car may have, which you can use for leverage while negotiating the price.
Photos courtesy of Toyota, Wikimedia Commons, and the author